Home >
News >
2020 >
New bleep system reunites parents with their children after operations
New bleep system reunites parents with their children after operations
Posted Tuesday, February 11, 2020 9:36 AM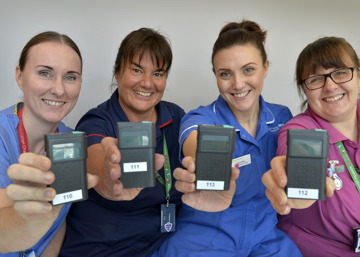 The bleep system will ensure that parents get a pager, which will bleep immediately once their child is out of theatres and is ready for them to greet them.

Deputy Sister on the Children's Ward, Ward 25, Carol Hind, who has been involved in the project explains: "In the past parents may have missed a call from the ward when their child is ready or the ward has not been able to contact them, which can be distressing for both the parents and the patient. The new system will ensure that parents will be bleeped as soon as their child comes out of theatres, so they will be able to be reunited as soon as possible.

"We know that having an operation at a young age can be quite a scary experience and so we wanted to look in to how we could improve the process and make things better for our patients and their families."
The project has involved teams from Ward 25 and Theatres collaborating across both specialties to improve the pathway, with the hope that this will be a big improvement and take some of the stress out of the situation for everyone involved.

Andrew and Sarah Longmead were the first family to try the new bleep system, they said: "It's a really good idea, it was good for us because we were able to go and get a cup of tea and take a short walk around the hospital, safe in the knowledge that we would hear the bleep go off as soon as Toby was ready for us to greet him again.

"It's a really stressful time for the whole family, so little things like this can really make a difference. It's something so simple, but we didn't need to worry about getting a phone signal or checking our phones for missed calls, so it was one less thing for us to think about."

The bleep system began this week and is being run in conjunction with the 'theatres car' which allows younger patients to go down to theatre in a mini electric car, taking the stress out of the situation by having some fun on the journey.