Home >
News >
2020 >
May 2020 >
Sherwood Forest Hospitals purchases new Gamma Scanner following appeal success
Sherwood Forest Hospitals purchases new Gamma Scanner following appeal success
Posted Friday, May 29, 2020 1:39 PM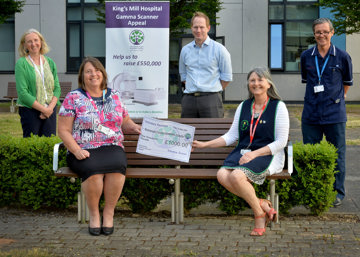 Sherwood Forest Hospitals is delighted to announce that the Gamma Scanner Appeal has raised enough funds to purchase a new high-tech scanner for King's Mill Hospital.
With the support of the regional procurement network, Sherwood Forest Hospitals has been able to purchase a state of the art scanner for King's Mill Hospital at a cost of £485,000; £65,000 less than originally appealed for in 2018. The total amount of money raised is £490,000, with the extra £5,000 being used to support staff training and provide enhancements to the unit.
The new sophisticated scanner will enable more than 2,000 patients each year to have advanced scans which will be able to speed up the diagnosis of diseases like cancer with greater accuracy, and will revolutionise how patients are treated.
The Gamma Scanner appeal was launched in April 2018, supported by the local Chad newspaper, to raise money to fund a new high-tech gamma scanner for the Trust. The new piece of life-changing technology will be used by the nuclear medicine department at King's Mill Hospital and will enable patients to receive a quicker, more detailed diagnosis and start treatment sooner.
The new technology in the scanner enables patients to have two scans at once, thus cutting down on additional hospital appointments and scans for the patient. This then allows the nuclear medicine department to scan more patients.
The money raised for the appeal has been generated by numerous voluntary and charity groups in the local community, patients and their families and friends, colleagues, volunteers and public donations, including a £296,000 donation from The King's Mill Hospital volunteers from profits made by the Daffodil Café, ward trolley services and fundraising stalls and events.
Shirley Higginbotham, Director of Corporate Affairs says: "We are incredibly thrilled to announce that because of the efforts of our colleagues, volunteers, local community and our patients, we are now able to purchase a Gamma Scanner for King's Mill Hospital.
"We are incredibly grateful to everyone who has supported, volunteered, donated and fundraised for our appeal over the last two years. Your donations will enable quicker diagnosis and treatment for cancer and other life-changing diseases for our patients.
"Thank you for your generosity and for everything that you have done, individually and collaboratively to support Sherwood Forest Hospitals to deliver outstanding care to our patients and local community."
Following a delay due to the Covid-19 pandemic, the Gamma Scanner will be installed at King's Mill Hospital following a commencement in the installation plan.