Compassionate visiting policy changes
Posted Thursday, November 5, 2020 12:22 PM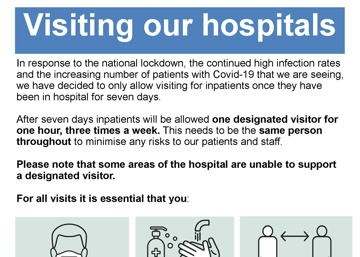 In response to the national lockdown, the continued high infection rates and the increasing number of patients with Covid-19 that we are seeing, we have decided to only allow visiting for inpatients once they have been in hospital for seven days. After seven days they will be allowed one designated visitor for one hour, three times a week. This needs to be the same person throughout to minimise any risks to our patients and staff. 
Wards will have staggered visiting times and these will be communicated to our patients and their visitors when they are admitted. We are also asking people not to come to the hospital before your allotted visiting time, as this is causing problems with regards to too many visitors being in the hospitals at any one time. We are staggering visits to keep everyone safe, please respect this and only arrive at your visiting time, thank you.
This approach to visiting ensures: 
The risk of infection is minimised
A compassionate approach is taken to each person's circumstances
The safety of patients, their visitors, and our staff. 
Some areas of the hospital will still need to remain restricted to keep patients as safe as possible. 
More information can be found on the visitors pages of our website here.