Home >
News >
2020 >
Trauma coordinator and Specialist Diabetes Antenatal Team win hospital awards for the delivery of 'exceptional care'
Trauma coordinator and Specialist Diabetes Antenatal Team win hospital awards for the delivery of 'exceptional care'
Posted Monday, November 9, 2020 3:45 PM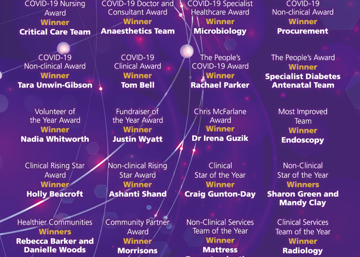 A Trauma coordinator at King's Mill Hospital and the Specialist Diabetes Antenatal Team have picked up awards at the Sherwood Forest Hospitals' annual Staff Excellence Awards after receiving nominations from patients.
Rachael Parker was awarded The Covid-19 People's Award, and the Specialist Diabetes Antenatal Team was awarded The People's Award; which are both nominated for by members of the public and patients. They were two of 22 awards that were given out on the evening of Friday 6 November to staff who work at King's Mill Hospital, Mansfield Community Hospital and Newark Hospital, to celebrate their achievements and dedication to delivering outstanding care and service to patients during the past year.
Rachael was nominated by Julie Wood, who attended King's Mill Hospital for an operation this year. In her nomination she described Rachael as someone whose 'commitment and dedication to her job is outstanding.' She said: "Rachael always put a smile on my face when she visited me. She would make time to sit with me and ask how I was feeling, making sure I was well cared for.
"I had good and bad days, and every time Rachael listened to me she would try her hardest to help me feel better; she is a true star and I am extremely grateful.
"Her care was exceptional and I will never forget her kindness, thoughtfulness and how much effort and love she showed me whilst I was a patient at King's Mill Hospital.
"I am thrilled Rachael has won this award. She deserves it whole-heartedly and I am delighted that she has received the recognition she truly deserves."
Rachael said: "I was shocked when I was announced as the winner of The Covid-19 People's Award. It has been a very difficult year for us all, but it was still quite unexpected as I just do what I do in my role. However, it makes me feel very proud and it is amazing to hear that Julie had taken the time to nominate me and provide feedback about the care she received. It is fantastic for colleagues and teams to hear this feedback and receive recognition."
The Specialist Diabetes Antenatal Team was nominated by Amy Bradley and her Husband. In their nomination, they describe the team as 'providing exceptional care' before and throughout Amy's pregnancy. Amy said: "I had a lot of support pre-pregnancy in order to ensure that my diabetes was well controlled before becoming pregnant to reduce the risks of any complications.
"We are so grateful to them all for the support they provided, and we are not sure that we would have our beautiful healthy baby girl without them. They supported me and my family during a worrying time, and we will always be very grateful to them for the fantastic care that we received."
Karen Evans, Diabetes Specialist Midwife said: "We were delighted to be nominated by Amy and her Husband, and to win the award is great recognition for the team. Despite the difficult circumstances at the moment, we continue to remain committed to providing the best patient care for women and their families, and to receive this recognition is overwhelming. We are all very proud of each other and very humbled. Thank you."
The Chair of the Trust, John MacDonald also presented special awards to two overall winners and these went to the Procurement Team and Radiology.
This year the awards ceremony was hosted online on Friday 6 November. It saw staff from all parts of the Trust, along with some of its valuable volunteers and community partners, being recognised.
Chief Executive, Richard Mitchell, said: "I was delighted to host this year's online Staff Excellence Awards. Events like these always make me incredibly proud, but this year has been an extraordinary year and I am pleased we have been able to take some time to celebrate the outstanding work of so many.
"Although the awards were a little different this year and we could not come together in our usual way, I hope all colleagues that were recognised at the awards still had a fantastic evening and feel proud. I know I'm certainly proud of what we've all achieved together this year.
"We have had a very different, unexpected year, but we have also seen some great things happening this year too. Thanks to the hard work and dedication of all colleagues, King's Mill Hospital was rated Outstanding by the CQC, Newark Hospital improved to Good and Mansfield Community Hospital kept its Good rating. For the second year running, we were also identified as the best NHS Acute Trust in the Midlands to work for. This is real testament to the teams and individuals who work at Sherwood. It is important we celebrate this.
"We received more than 500 nominations this year in a mix of Covid-19 and special categories, and inevitably only a small number of those could make the final shortlist, but everyone nominated should be extremely proud. This demonstrates what a great Trust we are already, and our commitment to making further improvements to patient care.
"I would also like to recognise the many staff who were working on the night, like any other night, to keep our hospitals and patients safe and who could not make the awards."
The full list of winners is as follows:
COVID-19 Nursing Award (Team)
The Critical Care Team
Runners up: Swab Team, Operating Department Practitioners
COVID-19 Doctor and Consultant Award (Team)
Anaesthetics Team
Runners up: The Critical Care Team
COVID-19 Specialist Healthcare Award (Team)
Microbiology
Runners up: A&E domestics, Occupational Health
COVID-19 Non-clinical Award (Team)
Procurement
Runners up: Critical Care Domestics, HR Team
COVID-19 Non-clinical Award (Individual)
Tara Unwin-Gibson (Linen Room Coordinator)
Runners up: Bob Truswell (Strategic Head of Procurement), Chris Williams (Therapy Operational Team Lead)
COVID-19 Clinical Award (Individual)
Tom Bell (Senior Pharmacist for Surgery and Critical Care)
Runners up: Dr Irena Guzik (Consultant Anaesthetist), Paula Evans (Matron -Nosocomial Infection)
The People's COVID-19 Award
Rachael Parker (Trauma Co-ordinator)
Runners up: Deborah Knight (Team Leader - ITU), Emergency Department
The People's Award
Specialist Diabetes Antenatal Team
Runners up: June Morley (Macmillan Nurse), NICU
Volunteer of the Year Award
Nadia Whitworth (Vice Chair and Secretary - Friends of Newark Hospital)
Runner up: Ward 25 Volunteers
Fundraiser of the Year Award
Justin Wyatt (Charge Nurse - Ward 43)
Runners up: Julie Dennis (FM Performance and Quality Manager), Ward 11
Chris McFarlane Award for Training
Dr Irena Guzik (Consultant Anaesthetist)
Runners up: Sarah Limb (Ward Sister - Paediatrics), Support Sonographers
Sean Lyons' Cup for Most Improved Team
Endoscopy
Runners up: Rota Coordinators, Service Improvement Team
Clinical Rising Star
Holly Beacroft (Intensive Care Nurse)
Runners up: Chloe Orme (Deputy PACs Manager - Radiology), Jon Overton (Lead Nurse - IDAT)
Non-clinical Rising Star
Ashanti Shand (Administrative Apprentice - NHIS)
Runners up: Joanne Davies (Associate Operations Manager), Keir Scarlett (Leadership Trainer)
Clinical Star of the Year
Craig Gunton-Day (Specialist Nurse - IDAT)
Runners up: Emma Fitzpatrick (FY3 Junior Doctor), Kevin Hewes (HCA - Emergency Department)
Non-clinical Star of the Year
Sharon Green and Mandy Clay (House Keepers - EAU)
Runner up: Tylor Leeds (Administrative Assistant - Resuscitation Services)
Healthier Communities Award
Rebecca Barker and Danielle Woods (Consultant and Theatre Recovery Team Leader)
Runners up: Robin Bolt (Senior Solutions Developer - NHIS), WHSmith and Costa at King's Mill Hospital
Community Partner Award
Morrisons
Runners up: Stagecoach, St John's Ambulance
Non-clinical Services Team of the Year
Mattress Decontamination Team
Runners up: Finance Team, Occupational Health
Clinical Services Team of the Year
Radiology
Runners up: Day Case, Operating Department Practitioners
Chair's COVID-19 Award
Procurement Team
Chair's Award
Radiology
Our huge congratulations go out to all winners and runners-up and thanks to our sponsors; Sherwood Forest Hospitals Charity, Central Nottinghamshire Hospitals plc, Medirest, Perfect Ward and Vivup, whose support made the event possible at no cost to the Trust.