Home >
News >
2020 >
Only a few days left to nominate your Sherwood Forest Hospitals hero
Only a few days left to nominate your Sherwood Forest Hospitals hero
Posted Tuesday, September 8, 2020 11:40 AM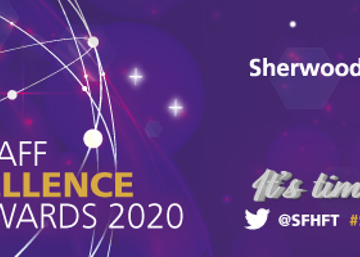 Sherwood Forest Hospitals is giving patients, their families and the public the chance to nominate deserving members of staff or teams who go the extra mile for a special award.
The People's Award is one of the categories in the Trust's annual Staff Excellence Awards and celebrates those members of staff who go above and beyond to deliver outstanding care or service, from porters and cleaners, nurses and doctors, through to administration staff and managers.
This year Sherwood Forest Hospitals are also recognising those colleagues who went above and beyond during the Covid-19 pandemic with an additional Covid-19 specific category.
Anyone can nominate in The People's Award and nominations can be made for whole departments, ward teams, an individual member of staff or support team members who work at King's Mill Hospital, Newark Hospital or Mansfield Community Hospital. Please ensure nominations are received by 5pm on Friday 18 September.
Nominations can be made via an online form on the Sherwood Forest Hospitals website or posted to Communications Team, Sherwood Forest Hospitals NHS Foundation Trust, Trust HQ, King's Mill Hospital, Sutton in Ashfield, Nottinghamshire, NG17 4JL. Please provide your name, telephone number, your nomination and reason for nominating in no more than 200 words.
Nominations close Friday 18 September at 5pm.