Home >
News >
2020 >
Sherwood Forest Hospitals Finance Team scoops national health award
Sherwood Forest Hospitals Finance Team scoops national health award
Posted Friday, September 4, 2020 4:01 PM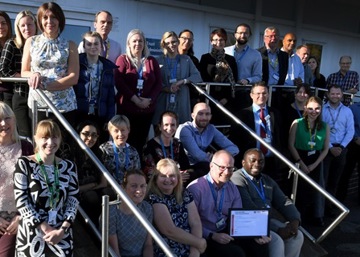 Sherwood Forest Hospitals' Finance Team have been awarded the Health Service Journal (HSJ) Value Awards, Finance Team of the Year thanks to their Future-Focused-Finance initiative.
This year's judging process followed a different format due to the coronavirus pandemic. Finalists were asked to create a video presentation to submit for review by the judging panel, which is formed of a wide range of well-respected figures from across the UK healthcare community. The Finance Team at Sherwood Forest Hospitals has been awarded this prestigious award in recognition of their outstanding contribution to delivering better services and driving better outcomes across their organisation over the past 12 months.
The accolade recognises the teams efforts after they embraced the Future-Focused- Finance initiative, which looked at improving NHS finance for everyone, recognising the need for strong financial skills and an understanding across all professional groups to deliver good patient care and value for money.
Throughout the last financial year the team have successfully improved the quality of the finance team and financial management through a range of networks, frameworks and toolkits.
Judges were particularly impressed with the honesty of the team in identifying their need for improvement. They also noted that it was refreshing to see an acknowledgement of the wider physical and mental health support provided to other teams.
Chief Financial Officer and Deputy Chief Executive for the Trust, Paul Robinson said: "I am so proud of the team for achieving this prestigious accolade. It's a true reflection of their hard work and efforts to really integrate themselves within the organisation to ensure that best practice is carried out."
The editor of the Health Service Journal, Alastair McLellan, offered his congratulations to the teams on their success, "The entrants this year have been of incredible calibre, and each of the winners at the HSJ Value Awards 2020 have been chosen based on their outstanding commitment to delivering value and efficiency across their organisation, I'd like to offer my congratulations to Sherwood Forest Hospitals Finance Team on winning the HSJ Finance Team of the Year award at this year's HSJ Value Awards."
Winners were announced on the HSJ Awards Twitter to their 7,000+ followers 4 September. You can view the tweets from across the day by visiting @HSJ_Awards twitter or searching for #HSJValue.
For more information on the HSJ Value Awards visit: https://value.hsj.co.uk/