A polite reminder to our visitors
Posted Wednesday, December 29, 2021 1:46 PM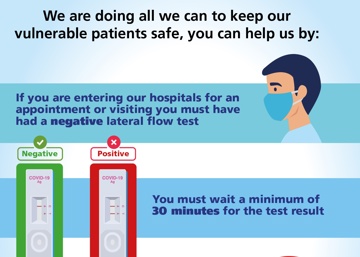 Please take a lateral flow test before visiting a patient or attending an appointment. If you have tested negative, but have Covid-19 symptoms please do not visit the hospital and take a PCR test. If you have a household contact who has tested positive then please don't visit our hospitals.

If you are visiting for an outpatient appointment and you or a household contact has symptoms please call the clinic prior to your appointment for advice as you may need to rearrange your appointment.
Each inpatient is able to have one designated visitor to visit 1pm-5pm each day, unless the patient is Covid positive.
We continue to have visiting for patients who are end of life, under 18, require a designated carer, or have significant needs such as mental health and dementia. Covid-19 positive patients are supported to have virtual visiting unless they are end-of-life, where we support safe, limited visiting.
If you are visiting our Emergency Department, EAU (Emergency Assessment Unit) and SDEC (Same Day Emergency Care Centre) or as an outpatient we are still asking people to attend alone unless they are under the age of 18 or require a carer.

If you need to attend with a carer please ensure that they have taken a lateral flow test and that their household has no Covid-19 symptoms or anyone who has tested positive.
We are keeping this under review and update you once our position on visiting changes.