Home >
News >
2021 >
Hat-trick success for Sherwood Forest Hospitals' critical care team
Hat-trick success for Sherwood Forest Hospitals' critical care team
Posted Wednesday, December 22, 2021 9:27 AM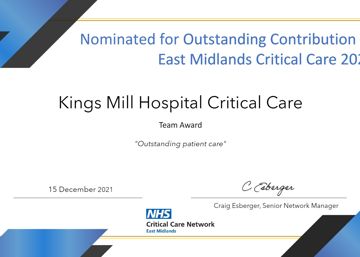 Colleagues in King's Mill Hospital critical care team are celebrating this week after receiving three nominations in the East Midlands Critical Care Network Conference Awards. The awards are an 'unashamedly positive' celebration of outstanding care and teamwork, which has been demonstrated continuously by the Nottinghamshire-based unit despite an unprecedented time in the NHS.
The Critical Care unit received the following nominations for outstanding Contribution to East Midlands Critical Care in 2021 
1. King's Mill Hospital Critical Care (Team Award)
2. Kathy Smiley, Matron (Individual award)
3. Dr Pulak Paul, Consultant (Individual award)
Kathy Smiley, Critical Care Matron, is thrilled that the team has been recognised on a regional level. She said: "To know that we've been nominated in three different categories amongst so many well-deserving hospitals and individuals has been a real morale boost for our team and colleagues. It has been an extremely difficult two years with COVID-19 and the increase in demand on our services. We exceeded double our capacity during the height of COVID, and we're continuing to see a steady flow of critically unwell non-COVID patients. Having the award nominations as we head into the Festive period will help us keep our spirits high!"
Vishal Dhokia, Clinical Lead for Critical Care, said: "I am so proud of every colleague within the critical care unit; everyone has worked together and continues to put outstanding patient care at the heard of everything we do. It's a really challenging time in healthcare at the moment, so I'd like to congratulate all the other teams and colleagues who have been nominated too: it has been a period of true collaborative working and supporting each other regionally."
When asked what members of the public can do to support NHS teams over the Festive period, Kathy said: "The biggest pressure in critical care units up and down the country has been looking after really sick patients with COVID-19, who haven't had a vaccine; these patients, some of whom are relatively young without any pervious health conditions, require continuous and intensive care, both on and off a ventilator. My biggest ask is for people to get the COVID-19 vaccines and booster if they haven't done so already, and follow the guidelines on socialising. You really will be helping save lives."