Home >
News >
2021 >
Sherwood Forest Hospitals celebrates a year since first patient received Covid-19 vaccine in North Nottinghamshire
Sherwood Forest Hospitals celebrates a year since first patient received Covid-19 vaccine in North Nottinghamshire
Posted Wednesday, December 8, 2021 4:33 PM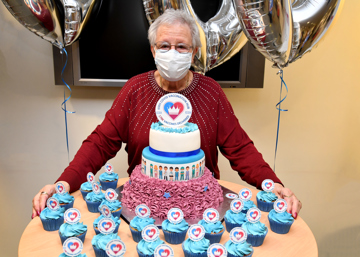 Former NHS worker, Ann Allen, who was the first person in North Nottinghamshire to receive the Covid-19 vaccine in 2020, has helped Sherwood Forest Hospitals mark a year since the first vaccine was given at King's Mill Hospital's Vaccination Hub.
On Tuesday 8 December 2020, 81-year-old Ann, from Sutton-in-Ashfield, helped the Trust make history as Sherwood Forest Hospitals began vaccinating patients against coronavirus at its hospital hub, at the start of the biggest immunisation programme in NHS history.
Since the Hospital Hub gave the first vaccine, it has administered more than 178,000 vaccines. Ann returned to the hospital vaccination hub today (Wednesday 8 December) to officially begin the celebrations by cutting the cake and helping the vaccination team mark a year of administering the vaccine to the North Nottinghamshire community.
She said: "I felt very privileged to be the first person to receive the vaccine in the area. My family and I were very relieved that I was getting some protection against the virus, as I had been isolating for the majority of 2020.
"Since having my second vaccine and my booster, it has given me the confidence to see more family and friends and not feel so isolated.
"It was lovely to be invited back to the vaccination hub to thank the team involved in vaccinating so many people and join in with their celebrations." 
It was particularly special for Ann to be the first person vaccinated, as she used to be a physiotherapy assistant at King's Mill Hospital for 27 years.
Executive Director of People and Executive Lead for Vaccinations at Sherwood Forest Hospitals, Clare Teeney, said: "It was such a momentous day for the Trust when we vaccinated our first patient, Ann. The vaccination programme has progressed and grown at pace since that first day and I would like to take the opportunity to thank all of our colleagues who have been involved in the vaccination efforts across the county. We really have pulled together as a system to ensure that our community has been able to get vaccinated as quickly as possible and it is testament to everyone who has been involved in this huge effort that we have vaccinated as many people as we have.
"We continue to offer first and second doses of the vaccine for those who are not yet vaccinated, as well as offering booster vaccinations for everyone who is eligible. I would encourage anyone who has not yet had the vaccine to book an appointment on the national booking site or call 119 to help protect themselves from serious illness."
Judy Hardwick who has been working at the King's Mill Hospital Vaccination Hub since the first vaccine was administered, added: "It has been brilliant to be part of the team that made history by vaccinating the first person in our area. We have seen so many people come for their vaccine from all walks of life, some people have been quite emotional, as it has meant an end to them isolating or feeling as scared about the virus as they become protected. I feel quite humbled to have been involved in administering the vaccines, as it has had such a huge impact across the country and it has meant so much to people.
"The team have been brilliant to work with and we have seen so many people come forward to help us when we needed it by volunteering, whether that's signing people in to the hub, vaccinating people or helping with things like car parking, it's been a real team effort and it has been fantastic to be part of it all."  
There are currently more than 50 vaccination sites across Nottingham and Nottinghamshire and eligible people can book an appointment by calling 119 or visiting the NHS website.
You can find out more about where your local vaccination sites are by visiting https://nottsccg.nhs.uk/covid-19/covid-19-vaccinations/groups-being-vaccinated/