Home >
News >
2021 >
Sherwood Forest Hospitals launches 'Build the Future Campaign: Train, Retain and Achieve' during National Apprenticeship Week
Sherwood Forest Hospitals launches 'Build the Future Campaign: Train, Retain and Achieve' during National Apprenticeship Week
Posted Wednesday, February 10, 2021 12:24 PM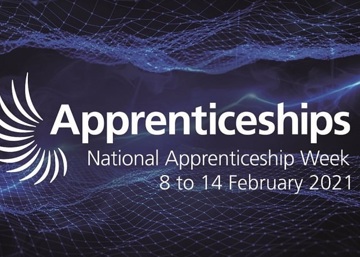 To celebrate National Apprenticeship Week Sherwood Forest Hospitals is encouraging colleagues who are interested in an apprenticeship to get in touch. 
More than 150 colleagues at Sherwood Forest Hospitals are currently undertaking both clinical and non- clinical apprenticeships across the Trust. 
Sherwood is a proud supporter of apprenticeships and has a wide variety of apprenticeship opportunities for colleagues including; Health Care Support Workers, Finance, Business Administration, Leadership Development and Physiotherapists to name but a few. 
As part of the Trust's Build a Future Campaign: Train, Retain and Achieve' - a range of videos have been produced including interviews with colleagues who are undertaking an apprenticeship with the Trust. The videos include colleagues talking about their experience of undertaking an apprenticeship programme and how it has supported their career progression, increased their confidence, improved their skills and knowledge and how apprenticeships have kick-started incredible careers. 
Claire Pettitt, Head of Education, Learning, Development and Education Support Services said: "We have embraced the diversity of opportunity and value that apprenticeships bring, and how they can help individuals carve out a new career at the Trust and help with career progression whilst building a sustainable future proofed workforce." 
The video of Sherwood Apprentices can be found here - Sherwood Forest Hospitals Foundation Trust - Current Apprentices - YouTube – please note that this was recorded before the pandemic. 
During the National Apprenticeship Week, the Learning and Development Team will be available to give bespoke appointments to colleagues who are interested in apprenticeships to discuss how one could help their individual development and career progression. 
With a range of both clinical and non-clinical apprenticeships available we are able to support progression and succession planning within departments. 
If you work for the Trust, individual career clinic appointments can be booked over MS teams here - https://sfhcoursebooking.nnotts.nhs.uk/dbmv2/EventSummary.aspx?recid=682