Home >
News >
2021 >
Sherwood Forest Hospitals' colleagues and patients feature in stunning new artwork to commemorate extraordinary COVID efforts as part of NHS Birthday celebrations
Sherwood Forest Hospitals' colleagues and patients feature in stunning new artwork to commemorate extraordinary COVID efforts as part of NHS Birthday celebrations
Posted Monday, July 5, 2021 12:54 PM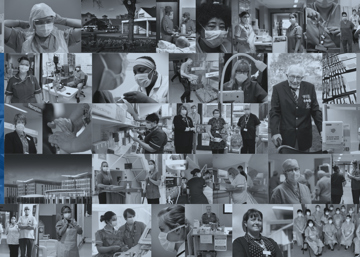 After a difficult and challenging 18-month period for the NHS and Sherwood Forest Hospitals, the Trust celebrated the NHS's 73rd birthday this week, supported by Sherwood Forest Hospitals Charity, NHS Charities Together and Morrisons, concluding the Trust's annual 'Recognition Week' celebration for colleagues and volunteers.
#NHSBigTea encourages colleagues, friends and family members to get together, where possible, to take a moment to acknowledge and thank the NHS. Funded and organised by the Trust's Charity team and Morrisons, who ensured departments and wards on all three hospital sites received cakes and drinks to enjoy together, the tea parties allowed colleagues to have a period of reflection, and a moment to pause.
To commemorate the COVID-19 pandemic, Sherwood unveiled COVID artwork at King's Mill Hospital, Mansfield Community Hospital and Newark Hospital on Monday 5 July. Featuring over 60 powerful black and white images, the artwork showcases the communal emotion and collective spirit during the height of the pandemic for many of the Trust's colleagues, volunteers and the local community. 
Karen Stevenson, Trust colleague and COVID patient at King's Mill Hospital throughout March 2020, features on the special artwork. She said: "I am so grateful to the NHS, in particular Sherwood, for saving my life when I had COVID. I have worked in the NHS for three years, and I have never been a patient for as long as I was last year.
"I am in awe of my colleagues every day, but even more so knowing that they saved my life from this awful disease; they were so brave, risking their own health by treating me. I've been an advocate for the NHS and my colleagues for ages, but knowing that on the NHS's birthday, millions of people cheered in support is great: it's what we all need after such a difficult time.
"Being on the artwork surprised me at first, but I'm on there as a thank you to everyone who looked after me. Some didn't even know I was a Sherwood colleague until I was discharged! Every time I walk past, I'll remember those who saved my life, and for that, I am so grateful and thankful every single day."
Karen Colbeck-Rowe and Jill Kirk, ITU nurses, feature on the artwork in their viral 'hug' photograph that was taken in January 2021. They sought comfort and support from each other and their colleagues following an intensive, tiring and demanding 12-hour shift looking after some of the sickest of patients with COVID-19 in Nottinghamshire. Featuring on the artwork means that their moment is captured in time, available for colleagues and members of the public to remember and reflect upon. Karen says: "Being part of this memory wall is important to me, Jill and our team. The photograph shows how we were all feeling and some of us still are feeling, following the pandemic. I'm so proud of what everyone has achieved together, and I'm particularly proud of our ITU team."
Jill says: "Looking at our picture alongside tens of other images really brings home how hard we all worked together. We've all gone through something similar at the same time – now we have a bond for life. We'll all remember this period in time, and to have somewhere to go and reflect at work is special."
Tracey Brassington, Community Involvement Manager, and her team have supported the Trust's COVID-19 efforts since the first lockdown, being a 'hub' for donations, drop off/pick up for patients' belongings, supporting the Family Liaison Service, sourcing fundraising and donations, creating wellbeing packs for colleagues and delivering items around the Trust, plus lots more. Tracey said:
"The COVID-19 artwork commemorates the efforts of all colleagues, volunteers and the local community. We are so grateful to everyone who has supported the NHS and Sherwood, whether it was by donations of food for our colleagues, clothing for our patients, time volunteering or raising money for our charity – we are so thankful.
"We know we are not through the pandemic yet. Unveiling this artwork on such a special day, the NHS's birthday, after a very difficult period, felt like the perfect moment for us all to reflect on how far we've come together, and to thank our colleagues for their contribution to the NHS, which has been the cornerstone for many people during the pandemic."
Richard Mitchell, Chief Executive unveiled the artwork at both sites and is proud to dedicate space where colleagues and members of the public can reflect on the COVID pandemic and remember those who lost their lives, or had their lives changed due to the disease.
He said: "I was honoured to unveil the special pieces of artwork on the NHS's 73rd birthday. We're all aware of how unprecedented the last 18 months have been, and the artwork symbolises a moment to reflect on how hard colleagues at Sherwood have worked, how we've cared for one another, our families and our patients. It is a humbling moment.
"Recognising the NHS on its birthday is another moment to pause and reflect. We all needed the NHS more than ever during the pandemic. The NHS has cared for thousands of people with COVID, supported millions of friends and family members through loss and worry, supported thousands of colleagues, key workers and community colleagues, rolled out a national vaccine which has seen over 40m people vaccinated, all whilst continuing to look after patients who needed us to care for them.
"I'd like to offer my sincere gratitude to all Sherwood colleagues, volunteers, community partners and the local community, patients and their friends and family members for supporting our COVID-19 efforts. The NHS and the people we serve unite us all, but last year we all experienced something unprecedented at the same time and that makes our union even stronger.
"I'd like to thank Sherwood Forest Hospitals Charity for supporting the artwork in each of our three hospital sites and recognising the need to have somewhere to reflect and process the pandemic. Thank you."