Home >
News >
2021 >
'Tour de Thanks' delivering a heartfelt thanks to Nottinghamshire Covid volunteers
'Tour de Thanks' delivering a heartfelt thanks to Nottinghamshire Covid volunteers
Posted Thursday, June 3, 2021 8:35 AM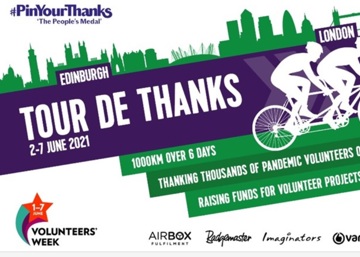 Volunteers at one of Nottingham and Nottinghamshire's vaccination centres are being thanked for their huge efforts and the difference they have made in recent months as part of a gruelling 1,000km charity cycle from Edinburgh to London.
Tim Reddish CBE a Paralympic swimmer and Non-Executive Director at Sherwood Forest Hospitals NHS Foundation Trust will be joining his son Paul Reddish, CEO of Volunteering Matters in the epic ride handing out thousands of 'People's Medals' over the six-day, 1000km trip as part of National Volunteer's Week (1-7 June).
The party will be due to arrive at the Forest Recreation vaccination site in Nottingham on Friday 4 June at around 10.00am. They'll be greeted by staff and volunteers at the busy vaccination centre who have been working hard to deliver the Covid-19 vaccination to thousands of individuals making a vital contribution in the continued fight against Covid.
Nick and Karen Shanks have been volunteering at the Forest Recreation vaccination site every weekend since January and say they have enjoyed being part of the team.
The retired couple said: "We decided to volunteer when we saw the enormity of the task ahead because we wanted to help. The whole experience so far has been so worthwhile and we are really enjoying the camaraderie and team effort.
"We have been made to feel very welcome and we have thoroughly enjoyed the whole experience so far. We plan to continue to help out for as long as we can."
On Friday, Paul and Tim Reddish will be handing out a special edition 'The People's Medal' to those who have dedicated their time, skills, compassion and support to help others.  'The People's Medal' comes in the shape of a beautifully designed pin badge from #PinYourThanks, a volunteer-run campaign that has been given by tens of thousands of people to thank their own pandemic heroes and since launching last summer.
They will then complete the journey to London riding a tandem finishing on the evening of Monday 7 June.
As well as handing out pin badges and thanks, the Tour De Thanks will be raising money, which will go towards volunteering projects in England, Scotland, Wales and Northern Ireland.   Donations can be made through the Just Giving page https://justgiving.com/campaign/tourdethanks
Tim Reddish says, "I have been lucky to hear first-hand the huge impact that volunteers have had during the Covid pandemic both within our hospitals, and more recently as part of the Covid vaccine roll out across Nottinghamshire and beyond. When Paul suggested the ride to say thanks and help raise funds there was no way I could say no!"
Amanda Sullivan, Interim Executive Lead for the Nottingham and Nottinghamshire Integrated Care System, who have led on delivering the Covid vaccination programme in the area said.
"We simply could not have delivered the vaccination programme without the massive contribution from our volunteer community who have given their time and skills to support us in the biggest public health intervention of recent times.  We're really pleased that the Tour de Thanks has chosen to stop at the Forest vaccination site and I'm sure their presence will be a real boost to everyone working there.  Good luck to Tim, Paul and the team for the ride!"
Click for detailed route of the tour, including stops – www.tourdethanks.org