Home >
News >
2021 >
Appointment of Shirley Higginbotham as joint Director of Corporate Affairs
Appointment of Shirley Higginbotham as joint Director of Corporate Affairs
Posted Friday, March 12, 2021 12:38 PM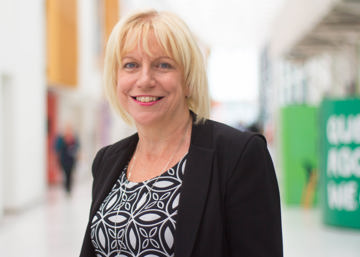 Shirley has been working as Director of Corporate Affairs at Sherwood Forest Hospitals since 2016 and has been temporarily working across both Trusts since October 2020. This has worked well and we are delighted that Shirley has accepted a substantive role across both Trusts.
Shirley's role will be to lead all aspects of both organisations' Corporate Governance systems. Her aim is to reduce bureaucracy, supporting well-informed and timely, risk-based decision making.
Dr John Brewin, Chief Executive of Nottinghamshire Healthcare NHS Foundation Trust said: "Shirley's substantive appointment is a progressive and welcome step towards our improvement.  Her focus will be on ensuring this shared role is a positive experience for our staff and our stakeholders as we move towards making further quality improvements.
"As with other joint roles across the Nottingham and Nottinghamshire system, our priority is on continuing to improve care for our patients.  Shirley brings with her significant, relevant experience and this is an exciting time for everyone across both of our organisations, including the communities we serve, our staff and our many stakeholders."
Richard Mitchell, Chief Executive at Sherwood Forest Hospitals NHS Foundation Trust said: "I am pleased we have another joint executive role across the two organisations. Clare Teeney, Director of People, has done an excellent job working with the teams at Notts Healthcare and Sherwood since September 2019 and it is positive news that Shirley Higginbotham is now substantively the joint Director of Corporate Affairs across both trusts. Closer working will improve patient care and the experience of colleagues and we will continue to explore appropriate opportunities for the two trusts to work together."
Shirley says of her new role: "Working across both organisations provides opportunities for us to learn from each other and to ensure that our governance systems and processes enable and support our close working relationship.
"We know that our patients and communities don't think about who is providing their care, they just want the best care, delivered in the most appropriate place; by working across organisational boundaries we can help to make that a reality.
"We already work as a real partnership and where roles can be delivered jointly this further cements our bond and enables us to deliver seamless care for our patients."