Home >
News >
2021 >
First NHS Rainbow crossing in Nottinghamshire opens at Sherwood Trust
First NHS Rainbow crossing in Nottinghamshire opens at Sherwood Trust
Posted Monday, March 22, 2021 1:48 PM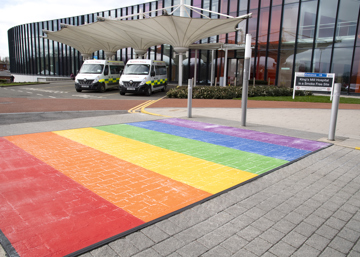 First NHS Rainbow pedestrian crossing in Nottinghamshire opens at Sherwood Trust
A rainbow crossing, thought to be the first on a Nottinghamshire NHS Trust site, opened at Sherwood Forest Hospitals this week in support and in recognition of the LGBT+ (Lesbian, Gay, Bisexual, Transgender and all other identities) community.
Following the Trust's LGBT+ History campaign in February, which saw the launch of an ally scheme and commitment, colleague blogs and a rainbow flag placed outside King's Mill Hospital, the crossing is the latest addition to the Trust's equality, diversity and inclusivity agenda. 
David Selwyn, Sherwood's Medical Director and LGBT+ Staff Network Executive Lead hopes the crossing will provide a visual sign of commitment to everyone who visits and works at the Trust. He said: "The crossing is one of the many ways the Trust is showing its inclusivity towards Sherwood colleagues and also towards our patients, visitors, guests and local community.
"To be able to open this rainbow crossing, which represents the LGBT+ community and allies, as well as a symbol of the difficult 15 months we've all had in the NHS, is a special moment. I am delighted for it to be on display at Sherwood's main hospital hub, King's Mill Hospital."
A 2018 Stonewall report on LGBT+ healthcare in Britain found that LGBT+ people face widespread discrimination in healthcare settings across the country, and one in seven LGBT+ people avoid seeking healthcare for fear of discrimination.
Sherwood Forest Hospitals is one of many Trusts throughout the country that has joined the NHS Rainbow scheme. The scheme supports members of the LGBT+ community to have open and honest conversations about their healthcare in an understanding environment, with colleagues who are LGBT+ allies: "People visiting our hospitals may see colleagues wearing rainbow lanyards or badges; this means that they have signed up to the NHS's LGBT+ rainbow badge scheme or the Sherwood ally pledge." David continues: "These colleagues are available for a friendly, safe and supportive conversation about who you are, your identity and how you feel, and they'll do their best to get support for you if you need it. It is important that everyone in our local community feels safe and welcome in our hospitals so they can receive the care they need."
The NHS People Plan, a plan for current and future NHS colleagues, highlights that 'a large number of colleagues who identify as LGBTQ+ do not feel confident enough to report their sexual orientation or gender expression on their employment record.' The figures at Sherwood show a positive increase (2%) of colleagues reporting their identities year-on-year and a decrease in the 'do not wish to disclose' option from 21.54% to 19.49% (2018/19 to 2019/20).
Angela Sutton, PMO Operations Manager and LGBT+ Chair at Sherwood Forest Hospitals, recognises Sherwood as an equal, inclusive and diverse place to work, and provider of care and services for colleagues and the local community. She said: "I have been involved in the Trust's LGBT+ agenda for a couple of  years, and as chair of the staff network, which includes over 60 members and allies, I have seen the growth and development towards being an even more inclusive organisation, not only for colleagues at Sherwood, but for the local community too.
"Sherwood has been at the forefront of LGBT+ awareness and support, for example by having more than 700 colleagues sign up to the rainbow badge scheme, and more than 200 colleagues sign the ally commitment pledge. In the community, Sherwood's LGBT+ staff network held a PRIDE history month event in February 2020, which included LGBT+ staff networks from the Police Force and the Fire Brigade, as well as the founder of Notts LGBT+.  The Trust was also represented in last year's first Nottingham and Nottinghamshire Integrated Care System Pride event, which was held virtually.
"Having the rainbow crossing proudly on display for all to see, demonstrates the inclusivity and equality at Sherwood and validates that the Trust is here to support everyone in the LGBT+ community and deliver outstanding care to everyone in a safe and compassionate environment."
Sherwood's rainbow crossing can be found at the front of King's Mill Hospital.
Sources:
https://www.stonewall.org.uk/lgbt-britain-health
https://www.england.nhs.uk/wp-content/uploads/2020/07/We_Are_The_NHS_Action_For_All_Of_Us_FINAL_24_08_20.pdf