Home >
News >
2021 >
Planting hope for the future – an 'orchard' of trees being planted across Nottinghamshire
Planting hope for the future – an 'orchard' of trees being planted across Nottinghamshire
Posted Wednesday, March 17, 2021 1:31 PM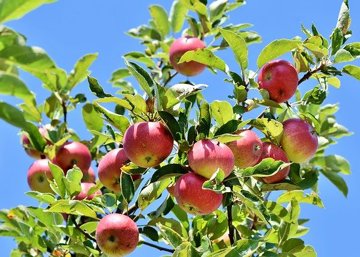 The Hope Orchard was initiated by Sherwood Forest Hospital's climate action team as an initiative to draw a link between health and the environment.  On Monday 22 March, Sherwood Forest Hospitals is planting fruit trees on each of their sites (King's Mill Hospital, Newark Hospital and Mansfield Community Hospital) as part of a commitment to a lower carbon future. 
The hospital trust is being joined in the movement by schools, public sector partners, individuals and the Woodland Trust all planting fruit trees as part of a co-ordinated day of proactive climate change action.
Dr Helena Clements, consultant paediatrician and climate change clinician at Sherwood Forest Hospitals said:
"The Covid-19 pandemic has impacted on all communities, and as we start to emerge from the crisis we need to look forward to a healthy greener future for our communities.  It is fantastic that so many of our partner organisations have taken on the challenge to get involved with planting trees on their sites, and I can't wait to see the pictures of the trees on the day."
As well Sherwood Forest Hospitals, other organisations taking part include Nottinghamshire Healthcare Trust at their Spring Meadow site, and the Woodland Trust who are planting 20 crab apple trees.
Emily Moore, Youth Development Manager at the Woodland Trust's Young People's Forest at Mead said:
"This is a lovely initiative by the Climate Action Team at Sherwood and one the Woodland Trust is happy to support by planting crab apple trees at the Young People's Forest at Mead. The last year has shown us the value of connecting with nature for our health and wellbeing, yet many people do not have access to quality green spaces. It is vital to protect what we have and encourage the creation of more, not just to aid our own recovery but that of the wider environment."
John Brewin, Chief Executive at Nottinghamshire Healthcare, said: "We're delighted to take part and create a joint Hope Orchard with our health and care partners. It's a great initiative and demonstrates our continued commitment to sustainability and creating green environments for our staff and patients.
"We're planting our trees at Spinney Meadow, a therapeutic green space with woodland, orchards, livestock and wildlife at our Wells Road base. As a Trust we are passionate about sustainability and the environment, and have a strong belief in the positive impact of green spaces on our patients."
In addition, schools/colleges including; Beech Academy, Yeoman Park Academy, Northfield Primary School, Holy Trinity Catholic Academy, Greenwood Primary, Dalestorth Primary, Lake View Primary School, Quarrydale School, Samworth Church Academy and Bilborough College will be planting their own trees on the same day, and sharing their photos/videos of their tree planting with the Trust's social media using #hopeorchard.