Home >
News >
2021 >
May 2021 >
Family Liaison facilitator 'honoured' to be part of hundreds of connections between patients and loved ones, in the face of Covid-19 hospital visiting restrictions
Family Liaison facilitator 'honoured' to be part of hundreds of connections between patients and loved ones, in the face of Covid-19 hospital visiting restrictions
Posted Wednesday, May 19, 2021 3:40 PM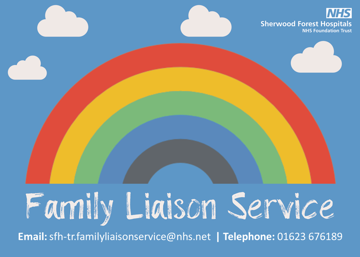 Since January 2021, Sherwood Forest Hospitals' Family Liaison Service, Trust volunteers and the Community Involvement Hub have supported hundreds of patients to keep in touch with their families during the Covid-19 pandemic, whilst they were being looked after in hospital during the second national lockdown.
Family Liaison Co-ordinator and Facilitator, Billie-Jean Poole, joined the Trust part-time in December 2020 to support the Family Liaison service. She said: "When I first joined the service, Sherwood's hospitals could not allow any visitors. This was obviously a tough, but necessary decision to make to ensure our patients, their families and our colleagues stayed safe during the pandemic.
"My time as a Family Liaison Facilitator was spent both on the wards with patients and clinical colleagues, and also in the office. Being able to watch and be part of heart-warming, emotional and much-needed connections between patients and their families when reading a letter, or helping organise a phone call was truly special. I feel very honoured to have been able to support so many patients and families."
The service helps facilitate contact between patients and their family members, and has supported over 2,000 connections so far. On average, Trust volunteers engage in over 400 conversations a week with Trust colleagues and clock up to 10,000 steps in three-hour sessions supporting the service. However, the true value of the service is when the facilitators and volunteers actively build strong relationships between patients, their families and the clinical teams.
Billie-Jean continues: "Through experience, the facilitators learn to know when is a good time for patients to have contact with relatives, such as during the patient's physiotherapy sessions; family members love to see their loved one in action, as a sign of getting better and being one step closer to coming home!  We act as the link between the hospital teams and their family members, reducing anxiety for all concerned, whilst at the same time, easing the pressure on our medical teams."   
Explaining the demand for the service, Billie-Jean continues: "At the time of restricted visiting, there was a real need for a support system to help patients get in touch with their loved ones, thus freeing up the time of our Healthcare Assistants, Nurses, Doctors and other clinical colleagues to continue to deliver clinical care on the wards.
 "The time I spent working on the wards gave me so much insight into not only how busy our clinical colleagues are, but also how necessary it is for our patients to have interaction with their families, which was understandably paused due to Covid-19.
"The communication and patient updates are crucial to both the patient and their family members, especially at a time when visiting is limited. I noticed a big improvement in patients' mental wellbeing and the easing of anxiety for the family members when facilitators would visit the wards."
Dorian Harrison, the son of recently discharged Barbara, 87, received regular updates from the team about his mother, who was a patient at King's Mill Hospital from February to March this year after suffering a stroke. He said: "Not being able to visit mum was so hard, and worrying at times for our family, but we understood it for her safety and those of other poorly patients, the people who work for the Trust and also friends and family members.
"Knowing that Sherwood had the Family Liaison Service was a relief; we could keep in contact with mum, and organise video calls with family members. Mum also really valued being able to have some of her personal belongings delivered to her in hospital; it made her stay that little bit easier.
"Billie-Jean was fantastic. She was available to support mum, whether it be organising telephone calls, arranging personal belongings, or even just having a friendly, welcome chat. Mum is at home now, and recovering well. We're all extremely grateful for the work of the service. Thank you."
The facilitators and volunteers often spend time with the same patients daily, building relationships and sharing special, and sometimes heart-breaking, moments.
For one patient whose health deteriorated suddenly, the team helped arrange a phone call so family members could say their final goodbyes and 'I love yous' to their mum. The service received a thank you card from the family of the patient who had recently passed away, expressing their gratitude. It read: "If it wasn't for you, I wouldn't have heard my Mum say 'I love you' for the last time. I owe you for the rest of my life."
Talking about her time as a facilitator, Billie-Jean said: "I am very honoured to have been part of the Family Liaison Service during such a stressful and worrying period for colleagues, patients and their families. As a team, we always went above and beyond; ensuring patients' wellbeing was at the heart of everything we did."
As the Trust enters into a new stage of lifting some of its visiting restrictions, from Tuesday 1 June, colleagues and volunteers from the Community Involvement Hub will deliver the Family Liaison Service at Sherwood Forest Hospitals. From this date, friends and family members of patients will be able to contact the service from 8am to 5pm (excluding bank holidays) via 01623 676189 or sfh-tr.familyliaisonservice@nhs.net for support with setting up phone and video calls, delivering messages and photographs in addition to the services the Trust's volunteers already provide.