Visiting update
From 1 January 2022, we have taken the difficult decision to suspend adult in-patient visiting in order to help protect our vulnerable patients. Please visit here for more information. 
Patient appointments
As we continue to see a rise in our urgent care admissions, a surge in admissions of Covid positive patients, and workforce shortages created by Covid isolation, some appointments for planned care may need to be delayed.
We will continue to prioritise urgent and emergency care and cancer treatments and we will do everything we can to avoid delaying care. If we need to take the difficult decision to delay appointments, we will contact affected patients directly to let them know. 
If you do not hear from us, please attend as requested in your appointment letter.
;
Home >
News >
2021 >
Escape room enables important learning for medical students
Escape room enables important learning for medical students
Posted Tuesday, November 23, 2021 4:01 PM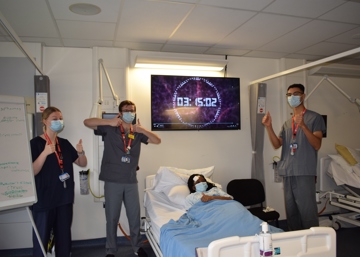 Ever been locked in an escape room with your colleagues or friends? It may seem a strange idea, but this is just what some students at Sherwood Forest Hospitals have been doing as part of their training.
Fourth year undergraduate medical students, from the University of Nottingham, have been using the 'escape room' at Sherwood Forest Hospitals to learn about health care in older patients.
The room acts like the popular 'escape rooms' by putting a simulated scenario of a busy ward in front of medical students and they have to work together to work through a series of tasks within a certain time frame to 'escape'. Teams of students are given 45 minutes to complete a variety of tasks they would encounter on an elderly care ward,  for example  a patient's relatives calling the 'ward' for updates, patients asking for help and treating patients who are confused and unsure of their surroundings. All patients in the simulation are played by trainers from the assessment team or fellow students to make the room as realistic as possible.
To add to the atmosphere of an escape room, dramatic music is played in the background and a countdown timer is prominently displayed in the centre of room, to create tension and remind the students they have an allotted amount of time in which to complete the tasks.
The whole escape room has cameras, which assessors use to watch and assess the students from a control room, throwing in different scenarios via a PA system, depending on how the students are performing.
In order to crack the code of the escape room to get out students have various puzzles to complete before they can progress through the room, each one with a theme relating to the patients they are caring for, which helps to consolidate their learning. The students then attend a debrief session at the end to reflect on their experience and discuss what they have learned.
The simulation sessions help students to focus on patient assessment and management as well as testing their ability to troubleshoot problems and to work under the pressures faced in a real-life hospital environment.
Medical Education Nurse, Lorraine Brooks, who developed the escape room said: "We know that escape rooms are popular for social activities so we came up with a way to incorporate it into our teaching methods. It adds something a little bit different to learning and is becoming an incredibly effective way of teaching our students as they all remember it and talk about what they have learned. It provides them with a very lifelike situation that they could be faced with on our wards. We have had a lot of positive feedback about it and will continue to develop it into our teaching methods."
Medical Student Nick Miller who took part in one of the latest simulations said: "I had lots of fun and I learned a lot too, it was really challenging, but helped to put everything I have been learning into practice."
Fellow student who joined Nick in the escape room, Charlie Bailie added: "It was a proper puzzle and something completely different. It's a great way of learning and I would definitely do it again."
Nagozim Mathieson who completed the team of three to tackle the simulator said: "I wish there was more of these, it's certainly a more accurate way of learning and it is more realistic. It is a great way to get us all multitasking and working together as a team."