Visiting update
From 1 January 2022, we have taken the difficult decision to suspend adult in-patient visiting in order to help protect our vulnerable patients. Please visit here for more information. 
Patient appointments
As we continue to see a rise in our urgent care admissions, a surge in admissions of Covid positive patients, and workforce shortages created by Covid isolation, some appointments for planned care may need to be delayed.
We will continue to prioritise urgent and emergency care and cancer treatments and we will do everything we can to avoid delaying care. If we need to take the difficult decision to delay appointments, we will contact affected patients directly to let them know. 
If you do not hear from us, please attend as requested in your appointment letter.
;
Home >
News >
2021 >
New 'double' cot at Sherwood Forest Hospitals keeps twin babies born early together to reduce stress
New 'double' cot at Sherwood Forest Hospitals keeps twin babies born early together to reduce stress
Posted Wednesday, November 17, 2021 8:58 AM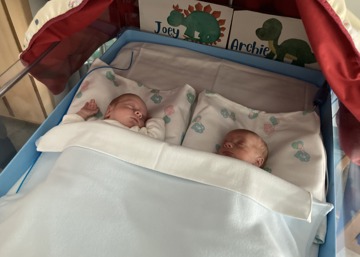 Twins born at King's Mill Hospital needing special care in the hospital's neonatal intensive care unit can now be kept together, thanks to a new 'double' cot, where they can lay side-by-side, just like in the womb.
The cot, which is wider than the average neonatal cot, enables new-born twins to be settled next to each other so that they can benefit from the closeness they have been used to in the mother's womb. Research shows that when twin babies are kept close they're more likely to have a stable heart rate because their stress levels are lower, which helps with their recovery. It's also more comfortable for new parents seeing their babies together.
Sherwood Forest Hospitals' Neonatal Intensive Care Sister, Lorraine Collins, said: "We get lots of multiple births on the unit because twins are often delivered earlier so sometimes do need that extra little bit of care. We've wanted a cot that can accommodate both babies for some time now, so we're extremely pleased that we have it in place now, helping new twins keep and build on that natural strong bond.
"Babies who don't need to be in an incubator can be placed together in the new cot and it can accommodate oxygen tubes if they still require a little bit of extra help with their breathing. There are so many benefits keeping babies together beyond the womb, which helps to keep them calm and their stay with us less distressing. It's also really nice to see parents being able to sit by both of their babies' bedsides at once, rather than moving from cot to cot trying to spend equal time with both babies."
Twins Archie and Joey Smith, who were born 11 weeks early, were one of the first sets of twins to benefit from the new cot once they were able to be taken out of their incubators and reunited. Their mother, Rachel Smith from Mansfield Woodhouse, said: "It was really nice having them back together after they were separated for some time in incubators. We've definitely noticed that the babies are much calmer since they have been put next to each other and they each calm the other one down. If one is unsettled, they calm down as soon as the other one is put back in with them.
"It's also been nice for us having them together as when they were in separate cots we would have to keep going back and forth across the room trying to ensure we spend equal time with each of them. When they were put together we were able to focus on both of them at the same time which makes things easier for us and helps our stress levels too."
The cot has been funded through the Sherwood Forest Hospitals Charity, who support many projects across the hospital Trust.