Visiting update
From 1 January 2022, we have taken the difficult decision to suspend adult in-patient visiting in order to help protect our vulnerable patients. Please visit here for more information. 
Patient appointments
As we continue to see a rise in our urgent care admissions, a surge in admissions of Covid positive patients, and workforce shortages created by Covid isolation, some appointments for planned care may need to be delayed.
We will continue to prioritise urgent and emergency care and cancer treatments and we will do everything we can to avoid delaying care. If we need to take the difficult decision to delay appointments, we will contact affected patients directly to let them know. 
If you do not hear from us, please attend as requested in your appointment letter.
;
Home >
News >
2021 >
Radiology patients benefit from access to digital letters through NHS App
Radiology patients benefit from access to digital letters through NHS App
Posted Thursday, October 7, 2021 3:35 PM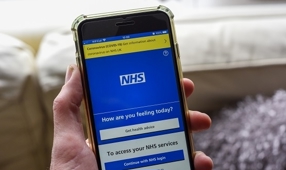 Patients in Nottinghamshire under the care of the radiology team at Sherwood Forest Hospitals NHS Trust, are now able to access their appointment letters through the NHS App.
Users of the app, who have also registered with the Patients Know Best functionality, can choose to receive appointment letters digitally, with notifications delivered directly to patients' smartphones. This includes details of new and changed appointments, and where appointments have been cancelled by the patient or the hospital.
The switch-on of this function within radiology provides a faster way for patients to access key information where they prefer to receive this digitally and puts users in charge of the information they access through the NHS App. Those patients who choose to receive letters in the traditional manner will still get appointment information sent to them through the post.
To register for the NHS App and Patients Know Best, patients should download the NHS App at www.nhs.uk/nhs-app and follow the simple registration steps. If you require more support, email sfh-tr.nottsnhsapp@nhs.net