Visiting update
From 1 January 2022, we have taken the difficult decision to suspend adult in-patient visiting in order to help protect our vulnerable patients. Please visit here for more information. 
Patient appointments
As we continue to see a rise in our urgent care admissions, a surge in admissions of Covid positive patients, and workforce shortages created by Covid isolation, some appointments for planned care may need to be delayed.
We will continue to prioritise urgent and emergency care and cancer treatments and we will do everything we can to avoid delaying care. If we need to take the difficult decision to delay appointments, we will contact affected patients directly to let them know. 
If you do not hear from us, please attend as requested in your appointment letter.
;
Home >
News >
2021 >
Local Trust recognised in the HSJ Patient Safety Award for its 'People First' initiative
Local Trust recognised in the HSJ Patient Safety Award for its 'People First' initiative
Posted Tuesday, September 21, 2021 8:59 AM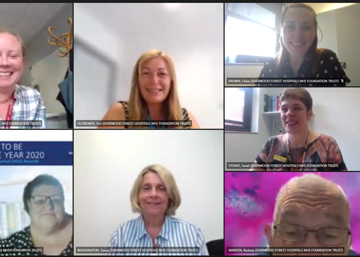 Sherwood Forest Hospitals, in partnership with academic partner Nottingham Trent University, is recognised in the Mental Health Initiative category in this year's Health Service Journal Patient Safety Awards, for its 'People First: supporting colleagues to support service users' project. 
The project is a comprehensive wellbeing support package for those working in health and care across Nottinghamshire, backed by academic research and support to ensure that the services offered really did meet people's needs as the demands of pandemic changed over time.
The Trust's wellbeing offer was strengthened in March 2020, at the beginning of the COVID-19 pandemic, and has since then evolved to reflect the needs of colleagues, particularly during the pressures of the pandemic waves and lockdowns. For example, the offer includes support and advice available to colleagues with children who may have been impacted due to the virus, as well as for colleagues working from home, those who were deployed into other areas and general wellbeing advice.
Accessible to health and care workers across Nottingham, the service has already been accessed thousands of times. Various tools are included, such as webinars delivered by the Clinical Psychology team, advice and 24/7 helplines, counselling and therapy sessions, confidential support, and physical and wellbeing challenges. The support remains in place and is still accessed regularly.
One of the most successful wellbeing initiatives to come from the project is the 'decompression and learning' sessions; a safe space for colleagues to openly discuss the impact of Covid on themselves, their family, and the organisation. This involved holding over thirty team focus groups, with more than 600 participating colleagues.
Ceri Feltbower, Associate Director of Improvement at Sherwood Forest Hospitals, led project at the Trust. She said:
"I am delighted that this very special programme of work has been recognised in this year's HSJ Patient Safety Awards. It has been a huge privilege for everyone involved to co-design and deliver this special and person-centred wellbeing offer to our colleagues during a difficult and worrying time.
 "Our colleagues have told us that the services have been useful not only for themselves, but also for friends and family members. The different levels of support available mean we have been able to help colleagues with different needs and wants, at varying times throughout the pandemic."
Dr Maria Karanika-Murray, Associate Professor in Occupational Health Psychology at Nottingham Trent University said: "It is wonderful to see such needed change being driven with a clear purpose and strong competence within Sherwood Forest Hospitals. This is a learning organisation that cares deeply for its colleagues and patients. Importantly, it understands how change can be sustained to support and maintain colleague wellbeing and patient safety. We have good evidence that this initiative is working and I hope that others can learn from it."
The award winners were announced at a ceremony on Monday 20 September in Manchester. To view all winners and finalists please visit here.