Home >
News >
2022 >
Hospital trust recognised for continued support to armed forces
Hospital trust recognised for continued support to armed forces
Posted Thursday, August 4, 2022 11:33 AM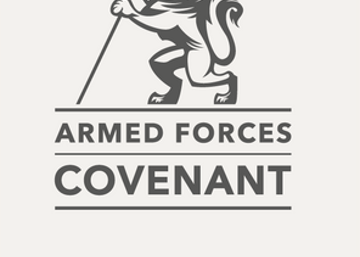 Hospital trust recognised for continued support to armed forces
Sherwood Forest Hospitals has achieved an award in recognition of its outstanding support towards the armed forces community.
The trust has retained the Silver Employer Recognition Scheme Award for 2022, having first received it in 2014. The award recognises organisations that actively demonstrate their support for the armed forces community through implementing practical policies in the workplace. This includes commitments such as paid time off for Reservists and Cadet Force Adult Volunteers and ensuring HR policies are inclusive of Veterans and military spouses. 
Under the Defence Employer Recognition Scheme, employers support Defence personnel and encourage others to do the same. The scheme has three levels - Bronze, Silver and Gold. To achieve Silver, organisations must proactively demonstrate that the armed forces community is not unfairly disadvantaged as part of their recruitment policies. They must also actively ensure their workforce is aware of their positive policies towards issues affecting Defence personnel.
Rob Simcox, Director of People at Sherwood Forest Hospitals, said: "Showing our commitment to armed forces personnel and their families encompasses a big part of our 'People, culture and improvement strategy', which focuses on helping our people to be the best they can be. We recognise that that there is still much to be done, however, and our next steps are to achieve gold membership to further cement our commitment to those who serve."
Kirstie Lawrence, the Ministry of Defence's Deputy Regional Employer Engagement Director for the East Midlands, said: "We are delighted that so many local businesses have been recognised with this Silver Award. Despite the pressures of the last few years, these companies have taken the time to ensure our armed forces community is supported. It is gratifying to see that, whatever the size of the business, there is a place for the Armed Forces Covenant, and they recognise the benefits of working with Defence. They should be really proud of this significant achievement."
The retention of the silver award follows on from the recent announcement that the trust is working towards the Veterans Covenant Healthcare Alliance (VCHA) accreditation as part of its ongoing commitment to members of the armed forces. The trust is fully supportive of employees who are members of, or wish to join, the Volunteer Reserve Forces and recognises the knowledge and breadth of experience such membership can bring to the workplace.
The trust is also part of the Step into Health scheme, which aims to enable NHS organisations to benefit from the transferable skills and values members of the Armed Forces community bring into the workplace. As part of this, the trust currently has a dedicated 'Armed Forces Champion', who acts as a first point of contact for those interested in applying for roles.
Rebecca Ford, Recruitment Manager, has taken up the role of 'Armed Forces Champion alongside her full-time post. She said: "As Armed Forces Champion, I'm here to offer my support to all Armed Forces Personnel currently employed by or seeking employment with the trust."
Personnel can contact Rebecca if they have seen a role they are interested in, and she will contact the department in question to find out if they are able to offer employment. She continued: "I am here to support those services leavers with additional needs, such as dyslexia, with tasks such as filling in application forms and I'm available to help with job applications for those wishing to apply for roles within another trust." You can contact Rebecca at rebecca.ford3@nhs.net.
The trust currently employs three members of staff who are in active military service, as well as seven reservists and one veteran. As part of its commitment to the armed forces community, the goal is for this number to increase.