Home >
News >
2022 >
Pioneering Emergency Department pilot launched to reduce King's Mill Hospital stays
Pioneering Emergency Department pilot launched to reduce King's Mill Hospital stays
Posted Tuesday, August 23, 2022 2:22 PM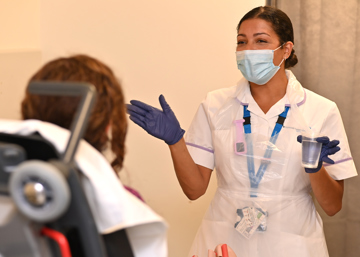 A pilot scheme to support early discharge and patient recovery by enabling patients to eat and drink sooner is underway at Sherwood Forest Hospitals Trust. 
The four-week trial, which commenced on 1 August, sees the Trust providing a dedicated Speech and Language Therapist (SLT) to cover the busy Emergency Department, Same Day Emergency Care (SDEC) and Emergency Assessment Units (EAU) at King's Mill Hospital. 
Therapists work with a range of healthcare professionals and patients' families to provide treatment, support and care for those who have difficulties with communication or eating, drinking and swallowing. They assist with the assessment, diagnosis and treatment of swallowing and communication problems and are instrumental in helping to reduce life-threatening swallowing problems in the early days after a stroke. The Royal College of Speech and Language Therapists (RCSLT) state that the skills of speech and language therapists help to support timely discharge and enable successful transitions back into the community. 
The Speech and Language Therapy service at Sherwood Forest Hospitals was previously provided by a third-party provider but it was brought back in-house in January to create more opportunities for service improvement and to embed the service within the Trust.  
Before the trial began, an urgent referral to the Speech and Language service could take up to 24 hours, and a routine referral 48 hours. As the service only runs on weekdays, this means that a patient previously referred on a Thursday who is otherwise medically fit for discharge would have had stay in hospital until Monday. 
Providing a speech and language therapist in the Trust's frontline service areas is helping to ensure safer and more efficient care by reducing length of hospital stay associated with poor nutrition and hydration, providing earlier intervention for stroke patients, supporting communication between staff and patients, and providing a quicker response for swallowing assessments. 
Robyn Goddard, a Highly Specialist Speech and Language Therapist taking part in the trial, said: "My presence massively eases workload for other colleagues as it helps them to feel more supported when experiencing a patient in need of Speech and Language Therapy services. 
"The therapists have specialist skills with helping patients who struggle with communication to get their point across, and our intervention can reduce frustration in those patients who are unable to communicate, which can be quite a scary experience. So many colleagues have commented that it is good to have me here." 
Richard Clarkson, Emergency Department Lead Nurse and Head of Service at Sherwood Forest Hospitals, has seen the positive outcomes of the trial first-hand. 
"It's been great to have the therapists on the ground to identify those patients in need of the service," he said. "Since having Robyn around, patients are being treated on the day of their admission and discharged to recover at home which is often the best place for them, especially in the case of vulnerable and elderly patients." 
The trial has received positive feedback so far and once completed, the results will be analysed, and a decision made on whether to offer the services on a permanent basis.