Home >
News >
2022 >
Health bosses' plea for public's support after Newark Urgent Treatment Centre's busiest ever day
Health bosses' plea for public's support after Newark Urgent Treatment Centre's busiest ever day
Posted Wednesday, December 21, 2022 11:40 AM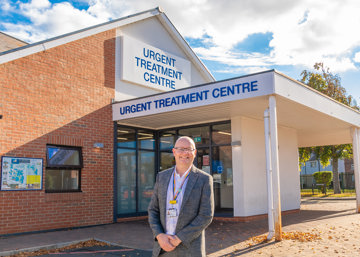 Newark Hospital leaders are making a renewed plea for the public to choose the right NHS service for their needs this winter, after the Urgent Treatment Centre at Newark Hospital experienced its busiest ever day this week.
Health and social care organisations across Nottingham and Nottinghamshire remain under a critical incident, as they continue to face intense pressure at local Emergency Departments and Urgent Treatment Centres.
Those issues are compounded by high numbers of patients remaining under the care of local hospitals when they are medically fit to be discharged home or to local care homes.
As of lunchtime on Tuesday 20 December, Sherwood Forest Hospitals continues to care for 98 patients who have been medically fit to be discharged from its King's Mill, Newark and Mansfield Community Hospitals for more than 24 hours.
Those pressures are underlined today by the news that Newark's Urgent Treatment Centre treated 135 patients on Monday 19 December alone – more than double the average number of attendances seen at the site in December 2021, where hospital staff treated an average of 64 patients each day.
David Ainsworth, the Director of Strategy and Partnerships at Sherwood Forest Hospitals who a programme of improvements at Newark Hospital, said: "Demand for NHS services remains high across the country right now – and that's no different at Newark Hospital, where the Urgent Treatment Centre remains exceptionally busy.
"The single most important thing that the people of Newark and the local area can do to support our hardworking NHS staff is to only attend our hospitals if you really do need to.
"Your local NHS is here for you this winter, but it's essential that we keep our hospitals free for those that really do need them most.
"We all have a part to play in this by considering whether you can get the advice you need from your local pharmacy, by calling NHS111 or by visiting 111.nhs.uk online to get the advice you need before you visit our hospitals this winter."
Patients who do visit hospitals are also asked to only take one person to accompany them and to support staff who ask them to wear a facemask in higher risk, clinical areas to help reduce the spread of COVID, flu and other illnesses this winter.
"We've been really clear that COVID's not over for our hospitals and we're also starting to see a rise in flu cases and other illnesses that are starting to circulate more after a few years of us all being apart," the director continued.
"If you really do need to visit our hospitals, please wear a mask when you're asked, only bring someone with you if it's absolutely essential and please continue to be kind to our hardworking staff who are there to help you get the treatment you need."