Home >
News >
2022 >
Local hospitals inundated with donations for Christmas homeless and food bank appeal
Local hospitals inundated with donations for Christmas homeless and food bank appeal
Posted Friday, December 23, 2022 2:59 PM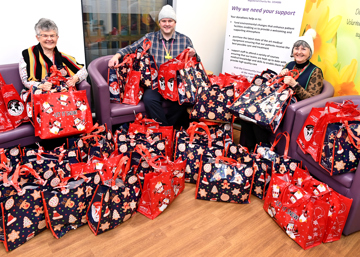 More than 50 gift bags packed with hats, gloves, socks underwear and other essentials have been generously donated by kind-hearted members of the public to support local homeless people this winter.
The donations have been made by kind-hearted members of the public and employees from Sherwood Forest Hospitals to the Trust's Street Health Outreach Team – a specialist team who support people who are rough sleeping with their complex physical health needs.
As well as winter warmers, the gift bags also contained toiletries and a selection of sweets and chocolates that will be distributed to local homeless people living in Mansfield and Newark.
The appeal has been supported by a generous donation from Medirest's (Compass Group UK) Social Value Initiative Fund to support the project.
That funding will also enable Sherwood Forest Hospitals to re-stock its clothing supplies at its King's Mill, Mansfield Community and Newark Hospitals.
Those supplies are used for a range of purposes, including to maintain the privacy and dignity of patients during their time in hospital and for supporting them to return home when they are ready to leave hospital.
A share of the donated boxes of food and toiletries have also been distributed to food banks in Mansfield and Newark to support local families this Christmas.
A huge thank you to everyone involved, and a special shout out to our volunteers in the Community Involvement team for not only putting the gift bags together but co-ordinating the appeal, this wouldn't have been possible without your support!