Home >
News >
2022 >
Parking boost for plans to bring more services to Newark Hospital
Parking boost for plans to bring more services to Newark Hospital
Posted Monday, December 12, 2022 3:44 PM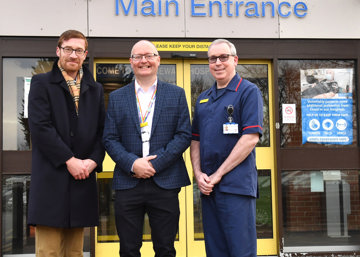 The future potential of Newark Hospital is due to receive a major boost with the creation of up to 80 extra parking spaces for patients, visitors and staff.
A partnership between Sherwood Forest Hospitals NHS Foundation Trust and Newark and Sherwood District Council has seen the district council purchase a 1.2 hectare plot of land in Bowbridge Road next door to Newark Hospital.
The district council is expected to submit a planning application in the coming weeks, which will consider whether some of the land can be converted into additional parking for the site.
There are currently 170 pay and display spaces, in addition to 20 for blue badge holders and seven for staff. It is expected that the new spaces will be used by staff, freeing up the main car park for visitors. 
If approved, work could begin at the site early in 2023 to further improve patient access to the hospital.
Councillor David Lloyd, Leader of Newark and Sherwood District Council, said: "From speaking with local residents, I know how important Newark Hospital is to everyone, providing essential services and surgeries alongside its urgent treatment centre provision.
"The additional car parking spaces will allow more residents to access the site and future proof it for years to come."
The additional parking is the next step in a significant programme of work to enable the trust to offer more elective services from Newark Hospital.
David Ainsworth, Director of Strategy and Partnerships at Sherwood Forest Hospitals and who oversees the Trust's running of Newark Hospital, said:
"This is another important step in our ambitious plans to enhance the range and volume of services at Newark Hospital.
"We are incredibly grateful to Newark and Sherwood District Council for sharing our commitment to work with other local organisations, patients and the community to do all that we can to maximise the potential of Newark Hospital.
"We are really keen for as many residents as possible to benefit from the wide range of procedures and services provided at Newark Hospital, so don't forget to 'Ask for Newark' at the point of referral with your GP or when speaking to your hospital team." 
In the past two years, Sherwood Forest Hospitals has invested £5million in Newark Hospital. The hospital runs several outpatient clinics, provides children's services, a women's centre with community-based midwives, therapy services, sexual health clinics, phlebotomy and pre-operative assessment services, and carries out hip and knee operations. This is all in addition to the Urgent Treatment Centre, which provides same-day care and treatment of minor injuries and illnesses.
A wide range of job vacancies are available at Newark Hospital – including admin/clerical roles, healthcare support workers, physiotherapists, occupational therapists and registered nurses. Apply online, at Job Advert (jobs.nhs.uk) before the closing date of Sunday 11 December.