Welcome to the world, Freya!
Posted Friday, December 16, 2022 1:09 PM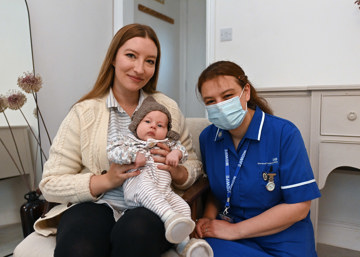 A total of seven babies have been born at home since the relaunch of a hospital trust's 24-hour home birth service.
Freya was the first to be born at home after Sherwood Forest Hospitals NHS Foundation Trust restarted its full 24-hour service in mid-September. 
Freya, who weighed 7lbs 2oz, arrived in a birthing pool at home in Swinderby, Lincolnshire. She is the first child for Kamila and Hugh Cornwell. 
Kamila (30) who received her antenatal care via the team based at Newark, said: "I could not have wished for a better first birth. I felt very safe and well cared for. The midwives, Hadassah and Amanda, were attentive and caring, providing me with the right level of support at each stage. I can also vouch for the pain-relieving properties of water! 
"Birthing at home meant I could fully focus on the birth itself, without having to worry about the logistics of getting to hospital at the right time, while being supported by a team of experienced midwives. Seeing our daughter for the very first time, in the safety of our home, was such a blissful moment." 
For a year the service had been limited to Mondays to Fridays between 9am and 5pm during the pandemic. If a woman birthed outside of these times, then the mother had to be transferred to the Sherwood Birthing Unit to give birth at King's Mill Hospital. As a result of successful recruitment to the community midwifery team, the 24-hour service was able to safely restart, and the team were busy upskilling in preparation for the relaunch. 
Kamila continued: "A lot of women, myself included, would be hesitant to book a home birth, in case they go into labour 'at the wrong time' if it was not a 24-hour service and I hope that it will continue to be available." 
Melanie Johnson, Matron for Community and Outpatients, said: "Congratulations to Kamila and Hugh on the birth of Freya. Those who are well and are having a straightforward pregnancy may want to consider a home birth for a variety of reasons, including the benefits it can bring.
"We know how important it is for families to have personalised choice and reinstating the full 24-hour service as soon as it was safe to do so has been a priority for us.
"Thank you to our on-call team who went above and beyond to support as many women as possible during a challenging year. We look forward to being able to support many more." 
There were a total of five home births in October, 2 in November and four are due in December.