Home >
News >
2022 >
February >
New mums report positive labour experience despite Covid-19 restrictions
New mums report positive labour experience despite Covid-19 restrictions
Posted Friday, February 18, 2022 1:15 PM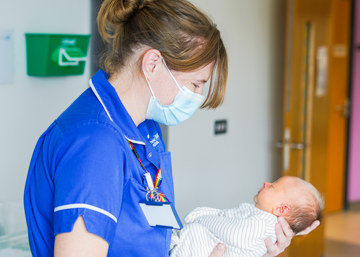 New mums have rated King's Mill Hospital highly for giving birth and for the staff that helped them to deliver their babies, despite the restrictions during the Covid-19 pandemic, according to a recent patient satisfaction survey.
New data from the Care Quality Commission's (CQC) national survey of maternity experience shows that Sherwood Forest Hospitals scores highly in areas such as staff treating new mums with respect and dignity during the birth, being supportive and speaking to them in a way that they understand. New mums also said that they were included in decision making and given the explanations and information they needed after the birth of their baby. The cleanliness of the ward was also rated highly.
The survey was carried out in February 2021, during the third national lockdown and under pandemic restrictions. This has influenced some of the answers to questions and shows a significant drop in satisfaction compared to previous years around partners being involved in labour as much as they wanted and being able to stay in hospital, which is seen across the board in NHS hospitals.
Sherwood Forest Hospitals' Head of Nursing and Midwifery, said: "We're really proud of this feedback from new mums. The care we provide to women and their babies, and the experience they have while giving birth with us, is very important. We recognise that giving birth under pandemic restrictions has been difficult for new mums and their birthing partners, and this is certainly shown in these results. We're already looking at ways that we can make improvements and since the survey was carried out, we've extended visiting hours on our maternity ward and facilitate a birthing partner to be present throughout the pregnancy journey.
"Listening to women's experiences of their maternity care plays a crucial role in delivering services that are safe and personalised. We thank our women and their families for their open and honest feedback, and our maternity colleagues for their continued hard work throughout the pandemic to continue to deliver outstanding care."
The national survey asked 23,000 new mums across the country who gave birth in February 2021 about their experiences. A total of 124 responses came from women who had given birth at King's Mill Hospital.