Home >
News >
2022 >
February >
Young people are asked to make a difference and help shape the future of their local Hospital Trust
Young people are asked to make a difference and help shape the future of their local Hospital Trust
Posted Friday, February 18, 2022 4:16 PM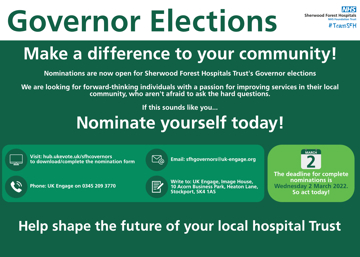 Sherwood Forest Hospitals Trust's upcoming Governor Elections will give an exciting opportunity for Trust members to become more involved in shaping the future of healthcare services in our community. The Trust is particularly keen to hear from young people aged 16+ who would like to put their name forward.
Becoming a Governor at Sherwood Forest Hospitals Foundation Trust will provide young people with a fantastic opportunity to enhance their C.V. It will also stand out on UCAS forms as it shows an interest in the local community, as well as a passion for having a say in improving services. It is a great way to learn more about the Trust, which will be of great benefit to those who are looking to enter the healthcare industry as a medical professional, as well as those who would like to join the Trust in non-clinical roles.
Sherwood Forest Hospitals provides a vast array of job opportunities in both clinical and non-clinical roles at its three sites – King's Mill Hospital, Newark Hospital and Mansfield Community Hospital. Examples of job roles within the Trust are:
Physiotherapists
Radiologists
Counsellors
IT specialists
Caterers
Engineers
Receptionists
HR advisors
Accountants
Project Managers.
Governors have a key role to play in helping the Trust to achieve its ambitions. We are looking for people who are dedicated to helping deliver our vision to provide healthier communities and outstanding care to all.
To find out more about becoming a governor, watch some of our current Governors talk about the role here.  
Claire Ward, Chair of the Board of Directors says "Our governors keep us connected to our local communities and it's important that they come from all walks of life, with different connections and experiences to help us shape our services. The voice of our younger citizens is really important to help us shape our hospital for the future and it's not just about delivering health services. We are a major local employer, a key part of the local economy and we can lead on sustainability. This past year we have been increasing our efforts towards becoming a sustainable Trust by launching our Climate Action Group. We were also one of eight NHS Trusts to declare a climate emergency. Our future plans – in health, economy and sustainability - will directly impact the younger generation, which is why we believe their voice is so vital."
The Trust has 12 vacancies for public Governors:
4 from Mansfield
4 from Newark
2 from Ashfield
2 from the rest of East Midlands.
Governors are elected by the members of the Trust. They represent our members' and the publics' interests, and have a statutory duty to hold the Non-Executive Directors to account for the performance of the Trust Board. They bring valuable perspectives and ensure the Trust is publicly accountable for the services it provides.
The role of a Governor is a voluntary position. Therefore successful candidates will not be paid, but they will receive expenses for travel to meetings.
Governors should attend four Council of Governor meetings a year as well as the Annual General Meeting. There are also regular events and briefings they participate in such as meet your Governor events and Community events, they may also be invited to join the Governor Membership and Engagement committee and the Governor Nomination and Remuneration Committee.
Sue Holmes, Lead Governor with Sherwood Forest Hospitals Trust said: "The role of a governor is extremely rewarding as it enables me to represent you and put forward your views to shape the future of the services offered by our Trust. It is a great networking opportunity and provides me with the chance to meet people from all over our community, sharing thoughts and ideas. It's so satisfying to know that as a member of the council of governors I've helped to get the Trust to where it is today as one of the best Trusts to work for in the Midlands, and winner of the HSJ Trust of the Year 2020."   
Interested? Here's what to do…
To become a Governor, candidates must first be a member of the Trust. They can do this by signing up online, or emailing sfh-tr.membership@nhs.net.
Nominations are open from Monday 14 February, and from this date interested parties can put their names forward as a Governor by using one of the following methods:
Visit https://hub.ukevote.uk/sfhgovernors to download the nomination form or fill it in online
Phone UK Engage on 0345 209 3770
Write to: UK Engage, Image House, 10 Acorn Business Park,
Heaton Lane, Stockport SK4 1AS
Election timetable
| | |
| --- | --- |
| Publication of Notice of Election | Monday 14 February 2022 |
| Deadline for receipt of Nominations | Wednesday 2 March 2022 |
| Publication of Statement of Nominations | Thursday 3 March 2022 |
| Deadline for candidates withdrawal | Monday 7 March 2022 |
| Notice of Poll/issue ballot packs | Thursday 17 March 2022 |
| Close of Poll – 5pm | Monday 11 April 2022 |
| Declaration of result | Tuesday 12 April 2022 |