Home >
News >
2022 >
January >
Proud2bOps hosted by Sherwood Forest Hospitals NHS Foundation Trust shortlisted for the 2022 HSJ Partnership Awards
Proud2bOps hosted by Sherwood Forest Hospitals NHS Foundation Trust shortlisted for the 2022 HSJ Partnership Awards
Posted Wednesday, January 12, 2022 5:57 PM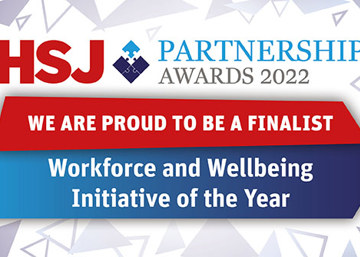 Proud2bOps and Sherwood Forest Hospitals NHS Foundation Trust are delighted to announce that Proud2bOps has been shortlisted for Workforce and Wellbeing Initiative of the Year at the HSJ Partnership Awards 2022, recognising their outstanding contribution to healthcare – in what has been an exceptional and challenging period across the sector.
Despite the demanding circumstances of the past two years, over 190 entries have been received for this year's HSJ Partnership Awards, with 123 projects making it to the final shortlist. The volume and standards of applications has been a true testament to those health and social care staff, who continue to push outstanding work and transformational projects across the sector.
Following the intense and in-depth judging process, Proud2bOps has been shortlisted, ahead of the official awards ceremony to be held on 24 March. Standing out amongst tough competition from hundreds of other exemplary applicants, Proud2bOps has been selected based on their ambition, visionary spirit, and the demonstrable positive impact that they have had on patient and staff experiences within the health and social care sector. 
With over 750 members from across the country, Proud2bOps is a community of operational managers and leaders, providing idea exchange, open to be challenged in thinking and delivery, while fostering a safe, supportive space of trust and respect.
Proud2bOps is an independent Network, founded and grown by NHS operational managers who identified a gap in development, support and opportunities for operational leaders to connect and influence as a profession. Proud2bOps works hand in hand with partners from across health and care to share, shape and learn together.
Founder/Chair of Proud2bOps and Executive Director of Culture and Improvement at Sherwood Forest Hospitals, Emma Challans, said: "We are delighted to have been shortlisted in the Workforce and Wellbeing Initiative of the Year category at this year's HSJ Partnership Awards, recognising the collaborative efforts and dedication of our operational colleagues over the last 12 months.  Our purpose is to help energise, connect, support and develop operational leaders across the country. We are committed to delivering improved outcomes for our patients. To be chosen among the other incredible nominees is a proud and wonderful achievement.  This nomination is a tremendous boost for all of our members and I am sure it will bolster our continued efforts to improve colleague experience and the care we provide to our patients and the communities we serve."  
The full list of nominees for the HSJ Partnership Awards 2022 can be found at https://partnership.hsj.co.uk/finalists-2022

The selected winners will be announced during the awards ceremony at Westminster Park Plaza, London on 24 March.