Patients reminded to attend A&E alone
Posted Wednesday, July 20, 2022 4:16 PM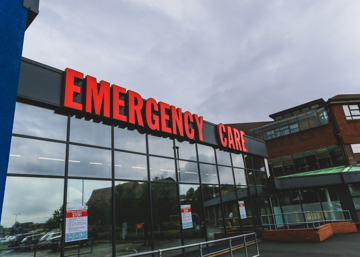 Patients attending the Emergency Department at King's Mill Hospital are reminded to attend alone to reduce overcrowding
Demand for NHS services remains exceptionally high for the time of year across the country and the A&E department at King's Mill can get full very quickly if each patient is accompanied by someone.
One person can accompany a patient in A&E if:
The patient is receiving end of life care
They are accompanying a child
The patient has mental health or learning disabilities
They are a birthing partner accompanying a woman in labour
Maggie McManus, Interim Chief Operating Officer at Sherwood Forest Hospitals, said: "Our #TeamSFH colleagues continue to work incredibly hard to ensure that patients can access the treatment they need as quickly as possible.
"One of the main things that we're asking patients to do to help their NHS is to consider whether our hospitals are the right place for their needs.
"You can help reduce pressure by visiting your local pharmacy, calling your GP team, visiting the NHS 111 website or calling NHS 111 for advice. By doing this we can all help ensure that patients get the right level of medical attention for their needs – and keep our hospitals free for the patients who really need them.
"If you do need to visit A&E, please come alone or with one person if you meet the criteria above. Due to an increase in COVID-19 cases, all patients and visitors are asked to wear a mask and follow social distancing."
The Trust's staff appreciate the continued support and understanding of patients and visitors.