Sherwood Forest Hospitals confirms two executive appointments
Posted Thursday, June 9, 2022 6:25 PM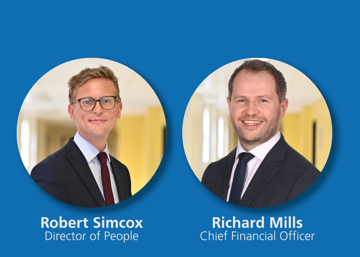 Sherwood Forest Hospitals has confirmed the appointment of its new Chief Financial Officer and Director of People at the public meeting of its Board of Directors earlier today (Thursday 9 June 2022).
Richard Mills will take-up the position of Chief Financial Officer from Friday 10 June. Richard previously served as the Trust's Deputy Chief Financial Officer since April 2019 before becoming its Interim Chief Financial Officer in October 2021, after Paul Robinson became the Trust's Chief Executive.
Richard has over 15 years' experience in NHS finance and, among his other portfolios, will be responsible for overseeing the financial sustainability of the Trust and will take an active role in system-wide partnership working as we move into the new era of statutory integrated care systems.
The appointment of Robert Simcox as the Trust's Director of People was also confirmed at today's meeting.
Robert has been with Sherwood Forest Hospitals as its Deputy Director of People since April 2016. He will also take-up his new position on Friday 10 June, taking over from Claire Teeney who has joined University Hospitals of Leicester.
Robert will now lead the Trust's people directorate, which leads on supporting the Trust's workforce to be the best they can, along leading system-wide collaboration regarding the people agenda.
Robert will also help continue to oversee the work that has helped Sherwood Forest Hospitals to be named as the best acute hospital to work for across the East and West Midlands for the past four years in the national NHS staff survey.
Paul Robinson, Chief Executive at Sherwood Forest Hospitals, said: "I am delighted to welcome both Richard and Robert into their new roles, following a hugely competitive recruitment process over recent weeks.
"Their appointments recognise the exceptional work they have done to ensure that our hardworking staff and volunteers here at Sherwood Forest Hospitals are properly supported to provide the best possible care to the patients and communities we serve. I look forward to continue working with them both."