Home >
News >
2022 >
Sherwood Forest Hospitals strengthens commitment to local armed forces
Sherwood Forest Hospitals strengthens commitment to local armed forces
Posted Friday, June 24, 2022 3:52 PM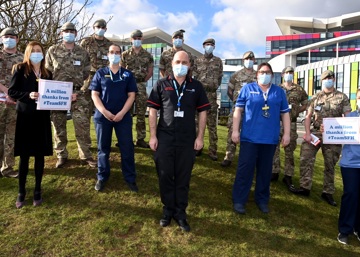 Serving members of the country's armed forces, veterans and their families are to receive additional support from hospital staff in parts of Nottinghamshire, thanks to a fresh commitment that is being made by Sherwood Forest Hospitals.
Sherwood Forest Hospitals originally signed the Armed Forces Covenant in 2016 which committed its hospitals to ensuring that those who serve or have served in the armed forces and their families are treated fairly whenever they need the Trust's services.
That commitment covers any contact that forces personnel have with the Trust, including when they attend hospitals as a patient or visitor and when they apply or are eventually employed to work as a member of staff or volunteer with the Trust.
Now Sherwood Forest Hospitals has started work to strengthen that commitment to offer further support to the area's armed forces community by announcing that it is working towards achieving a more comprehensive, independently-assessed Veterans Covenant Healthcare Alliance (VCHA) accreditation.
The announcement is being made in-time for Armed Forces Day on Saturday 25 June – a national day of appreciation for all those who make up the country's armed forces community, including serving troops, service families, veterans, reservists and cadets.
David Selwyn, the Medical Director for Sherwood Forest Hospitals who will oversee the Trust's work towards achieving the accreditation, said: "Sherwood Forest Hospitals has a proud history of working with and supporting our armed forces and I would like to thank all those connected to our armed forces for all that they have done and continue to do for our country.
"Our work towards achieving this higher level of accreditation strengthens our commitment to better understanding the needs of our forces and all those connected to them here in Nottinghamshire, as well as pledging that we will work alongside our partners across the county to ensure their needs are met."
The Trust's work towards achieving the Veterans Covenant Healthcare Alliance (VCHA) accreditation will commit the Trust to building upon that original commitment within the Armed Forces Covenant, including by:
Training staff to effectively identify serving and former members of our armed forces and their families when they become patients at the Trust's hospitals, as well as better understanding and serving those individuals' needs. 
Establishing links with and actively referring veterans to local services for additional and more specialist support. 
Committing to formally support the UK armed forces as an employer.
Among the members of the armed forces employed by the Trust are Colonel Kelvin Wright, the commanding officer in the 306 Hospital Support Regiment who is an Intensive Care Consultant at King's Mill Hospital who has served as an army reservist for 13 years – including leading a military emergency department in Afghanistan.
"I joined the army reserves at the height of country's activity in Afghanistan," he said. "I've always been driven to help people and support my country and my roles both here at Sherwood Forest Hospitals and with the army really do tick both of those boxes and more.
"I'm not originally from Nottinghamshire, so the support and flexibility that the Trust gave me to help balance my work with the Trust with a busy home life and my duties as a reservist really did play a huge part in my decision to join Sherwood Forest Hospitals.
"It is so important that employers commit to provide additional support to those who are part of the armed forces family in any way to help create those opportunities for them to contribute their skills to our armed forces – and bring those skills back to our 'day job' too!"