Home >
News >
2022 >
March >
Sherwood Forest Hospitals celebrates diverse workforce by unveiling inclusive artwork
Sherwood Forest Hospitals celebrates diverse workforce by unveiling inclusive artwork
Posted Monday, March 21, 2022 4:52 PM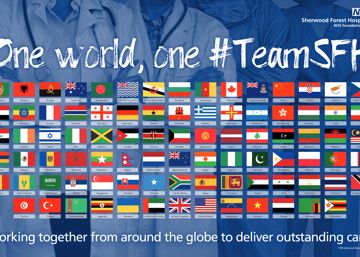 Sherwood Forest Hospitals marked United Nation's International Day for the Elimination of Racial Discrimination today (Monday 21 March) by unveiling a special piece of artwork at King's Mill Hospital.
The artwork, which is also represented at the Trust's two other hospital sites, Mansfield Community Hospital and Newark Hospital, recognises and celebrates colleagues from a total of 88 backgrounds and nationalities who collectively make up the Trust's 5,000 plus workforce.
Following the Trust's Anti-racism Strategy launch last month, the new installation continues the Trust's equality, diversity, and inclusivity agenda, summarised by the artwork's main headline: "One world, one #TeamSFH."
People from ethnic minorities make up almost 18% of the Trust's workforce, which is higher than the local population of 5% (2011 census).
The Trust's NHS Staff Survey results from 2020 show an almost 2% increase in ethnic minority colleagues experiencing harassment, bullying or abuse from patients, relatives or members of the public from 2019 to 2020. Whilst abuse towards white colleagues fell by 2.9% in the same period.
Ali Pearson, Sherwood Forest Hospitals' Lead for Equality, Diversity, and Inclusion said: "This artwork supports our Anti-racism strategy and promotes our agenda for inclusivity and belonging for our colleagues, and for our patients. Everyone is welcome at #TeamSFH; we are proud to deliver outstanding care to our community, and we are proud of our diverse workforce.
"This artwork is a celebration and a representation of our #TeamSFH family and our core values: working together, aspiring, and improving and being respectful and caring. Collectively, this is what makes Sherwood Forest Hospitals a great place to work."
Chief Executive, Paul Robinson attended the unveiling and recognised the importance of the artwork in celebrating diversity at the Trust. He said: "I am so proud of our workforce. Together we deliver outstanding care and services every day for our patients and community. This artwork symbolises incredible individuals, coming together from across the world to work together as one team - #TeamSFH.
"I encourage colleagues and visitors to our hospitals to take a look at the artwork at our hospitals and celebrate how diverse our teams are; more than 80 nationalities create our fantastic workforce, and together we deliver outstanding care to our population."
Emma Challans, Director of Culture and Improvement, and executive lead for the Trust's Ethnic Minority Staff Network said: "The artwork is a permanent installation that really showcases Sherwood Forest Hospitals' inclusivity. We know we have more to do to ensure all our colleagues are heard and recognised, and we hope with the launch of our Anti-racism strategy, this visual artwork, as well as training and awareness sessions and listening to our staff networks, our colleagues and teams know they are appreciated, seen and heard at #TeamSFH. 
"I am so pleased that we can share and be proud of the diversity of our workforce and recognise the brilliance and care we provide for our patients and each other, every day."
The artwork can be found at Sherwood Forest Hospitals' three hospital sites.