Home >
News >
2022 >
March >
Sherwood Forest Hospitals' climate team celebrates two years of acclaimed sustainable action for its local community, and the planet
Sherwood Forest Hospitals' climate team celebrates two years of acclaimed sustainable action for its local community, and the planet
Posted Wednesday, March 16, 2022 2:13 PM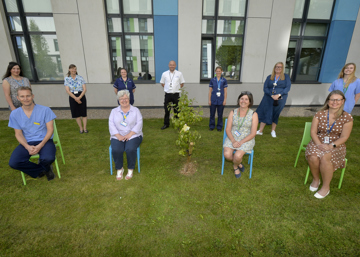 The Climate Action Team at Sherwood Forest Hospitals is celebrating two years of climate action at the Trust's hospital sites and surrounding local community.
More than 20 colleagues contribute to Sherwood Forest Hospitals' Climate Action Team, which was established in March 2020, and collectively, in the last two years, they have successfully put climate action 'on the map' for the Trust by launching the Trust's commitment to become more sustainable, including reducing the impact of climate change on its local community.
Throughout the COVID pandemic, the team continued to deliver its sustainability agenda, including the creation of their Green Plan which sets out the Trust's ambitions to reduce its carbon footprint and the environmental impact of its services, whilst supporting the NHS's net-zero target by 2040.
Chief Executive, Paul Robinson said: "We have taken a positive stance towards climate action in the last two years; however, we have much more to do. Our Green Plan outlines our ambitions and sustainable targets for the near future so we can support a healthier community, whilst continuing to deliver outstanding care to our patients.
"With the support and commitment from colleagues, patients, visitors, local partners and our community we've really put climate action on the map in the last two years. Going forward, our Climate Action Team will be integral to the initiatives that assure we'll be able to achieve our future targets as a Trust and wider NHS."
Since the Climate Action Team's launch, the group has focused their efforts on a range of initiatives and goals, including prioritising and gaining commitment for their Green Plan; launching sustainable waste solutions; installing more electric vehicle chargers; educating the local community, trainee GPs and students on climate action; and launching two phases of Hope Orchard in the Trust and community.
Demonstrating the community aspect of the Trust's climate plan, schools across Nottinghamshire supported Sherwood Forest Hospitals' Hope Orchard initiative whilst students were experiencing a difficult time throughout the COVID-19 pandemic. Students at Samworth Church Academy in Mansfield planted a poignant collection of trees on their premises, promoting a positive outlook on health, the environment and growth to other students in the school. When asked what the Hope Orchard meant to them as a school and as pupils, Guardian Team Leaders (similar to a 'Head Student' role) at the Academy said: "In the wake of a time of separation, these trees are a reminder that there is hope. The seasons change, but hope is always reborn."
Dr Helena Clements, Consultant Paediatrician and Climate Action Clinical Lead said: "Climate change is one of the most pressing challenges facing our society today. There are implications for physical and mental health, both directly and indirectly, across the population.
"By using our place in the community, we can engage with everyone who uses our services, and work with partner organisations to ensure our Trust can continue to provide outstanding care and remain a great place to work while using our planet's resources responsibly.
"Since forming the group in March 2020, we've had enormous backing and support from our senior leaders and Trust Board, the largest being the creation and commitment to our Green Plan, which recognises the link between climate and health and outlines some substantial targets that will support the NHS's net-zero commitment.
"This is only the beginning for the Climate Action Team at Sherwood, as we continue to work on making Sherwood more sustainable for our colleagues and patients, whilst continuing to deliver outstanding care."
In November 2021, Sherwood's Climate Action Team were finalists in the annual HSJ Awards in the Climate Initiative of the Year category; shortlisted for their Climate Action work at the Trust and within the local community, and for promoting a greener future for their colleagues and patients, including the health and wellbeing benefits from a physical, and mental health perspective.
In December 2021, Sherwood Forest Hospitals declared a climate emergency, becoming one of eight NHS Trusts to do so. The declaration supports Sherwood Forest Hospitals' Green Plan commitments, which include: 
Reducing carbon emissions from energy consumption by 80% by 2025.
Aim to cut patient transport mileage by 25% by 2025 to improve local air quality and reduce the health impacts of air pollution on children and adults.
Reduce fossil fuel use on their estates over the next five years, with the long-term goal of phasing out use before 2040.
Reduce their overall waste volume by 7% per year to 2025 and continue their zero-to-landfill commitment.
King's Mill Hospital is also a donor milk hub for the East Midlands – saving approximately 1.46 tonnes of carbon dioxide per year compared to previous distribution. 
Sherwood Forest Hospital's Green Plan can be found via the link below. You can also find more case studies and information on the range of initiatives the Trust has been supporting over the last two years here: https://bit.ly/SFHClimateAction