Home >
News >
2022 >
Promotion for apprentices who cared for patients during pandemic
Promotion for apprentices who cared for patients during pandemic
Posted Friday, October 7, 2022 1:02 PM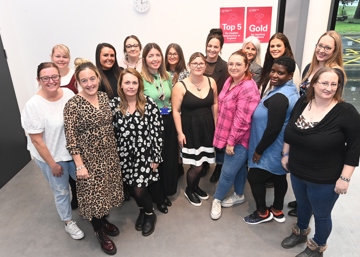 Hospital staff who cared for patients during the pandemic are celebrating promotion after completing a work-based apprenticeship.
Sherwood Forest Hospitals' first cohort of Trainee Nursing Associates (TNAs) have finished a two-year course at Nottingham Trent University's Mansfield Hub.
The group of 16 started the Foundation Degree Apprenticeship for Nursing Associates in October 2020 while employed by the hospital trust as Healthcare Support Workers (HCSWs). They studied on day-release from their regular role and completed 20 weeks of placements across adult, children's, mental health and learning disability areas in community, hospital, primary and social care settings to obtain as much experience as possible.
They have all secured Nursing Associate roles at SFH, where they will support wards and departments by helping to bridge the gap between HCSWs and registered nurses. The Nursing Associate role, which is registered with the Nursing and Midwifery Council, manages their own group of patients and supports Registered Nurses. They will also mentor and support developing HCSWs and TNAs.
Several of the newly qualified Nursing Associates have already expressed an interested in further study to become Registered Nurses.
Nursing Associate Nikki Clarke, (38) of Mansfield, said: "I've got big ambitions and completing this qualification has given me the confidence to go on and fulfil them. I hope to inspire others to consider this career pathway because it's ideal in many ways – you get to stay in paid employment while you train on the job, plus being able to study locally is a bonus.
"Not only are there lots of opportunities to work in specialist roles as a Registered Nursing Associate but you can also do further study to become a Registered Nurse, which is what I plan to do."
Phil Bolton, Chief Nurse at SFH, said: "We're really proud of our new Nursing Associates, who not only helped to care for our patients during the height of the pandemic, but combined this with studying – much of it online rather than in person.
"This is a fantastic example of how committed the Trust is to investing in our colleagues and supporting their career development. Congratulations, we are really proud of you all and wish you the very best for the future! Thank you to our partners at NTU for all their support."
Kathryn Shilling, course lead for the Nursing Associate Foundation Degree Apprenticeship at NTU, said: "Being able to offer this course in Mansfield is invaluable. It has given people who dreamed of becoming a registered health professional as part of the nursing team, but didn't have access to university, the opportunity to grow and develop their career.
"Working during the pandemic brought new challenges for the apprentices. It was important that we looked after their wellbeing as they were working full-time, studying and managing their personal circumstances, but we were inspired by the way they adapted and built their resilience. They are role models for future cohorts and we are very proud of them. We wish them the best of luck going back into the Trust in their new roles and continuing to provide high quality care for local patients."
A second group of 14 Trainee Nursing Associates have just started the final year of their course at the NTU Mansfield hub, while a further 18 start their training later this month.
The trust is currently recruiting to various Healthcare Support Worker positions. To find out more and apply online, visit our webpage.