Home >
News >
2022 >
Bank holiday information for patients | Monday 19 September 2022
Bank holiday information for patients | Monday 19 September 2022
Posted Tuesday, September 13, 2022 1:58 PM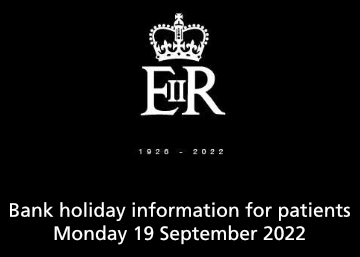 Monday 19 September, the date of the state funeral of Her Majesty Queen Elizabeth II, has been declared a national bank holiday which will impact some services within our hospitals.
Normal bank holiday arrangements will apply to all Sherwood Forest Hospitals services, with NHS teams working throughout the bank holiday weekend to ensure that our hospitals can continue to deliver safe, quality, timely care to patients and the communities we serve.
It is inevitable there will be some disruption to some non-urgent planned care originally planned for Monday 19 September, which will mean that some patients' appointments will need to be postponed. All patients will be contacted directly to explain the impact on their appointments.
All urgent planned and unplanned emergency care will continue across our hospitals, with patients still able to access the Emergency Department at King's Mill Hospital, the Urgent Treatment Centre (UTC) at Newark Hospital and maternity services – among other key services – as normal.
How you can help our hardworking NHS teams this bank holiday:
Check you have plenty of medication as soon as possible before the bank holiday. If you're running low, please order your repeat prescriptions as soon as possible to avoid running out of medication and to prevent you from becoming unwell over the bank holiday weekend.

When you need urgent medical attention but it's not an emergency, please call NHS111 or visit NHS111 online to access the urgent medical attention you need. Please only visit our Emergency Department if it's a genuine emergency.

Please be kind to the hardworking NHS staff and volunteers who are working to keep essential services running over the bank holiday weekend.
Will my appointment go ahead as planned?
We have now contacted all patients with a planned appointment for Monday 19 September, either to let them know that their appointment is going ahead as planned or to rearrange their appointment.
If you remain unsure, please call us on 01623 682 383 as soon as possible and our team will be happy to support you. Our call centre is open:
Until 6pm on Friday 16 September
Saturday 17 September, 8am to 2pm
Monday 19 September, 9am to 2pm
Please remember that some public transport providers will be operating a reduced service over the bank holiday which may affect how you travel to your appointment.
I want to postpone an appointment over the bank holiday – what do I need to do?
If you want to postpone your appointment, please call our booking line on 01623 682383 as soon as possible. Our team will work with you to rearrange your appointment for the next available and convenient date.
Can I continue to get my COVID autumn booster at King's Mill Hospital over the bank holiday weekend?
The vaccine hub at King's Mill Hospital will be open between 8am and 2pm on Monday 19 September, with vaccinations available either by pre-booked appointments and drop-ins. Drop-ins will be welcomed at the hub until 1pm on Monday 19 September.
Details of opening hours for all local vaccination sites are available on the NHS website.