Home >
News >
2023 >
April >
Health leaders' message to the public as NHS prepares for second round of junior doctor strikes
Health leaders' message to the public as NHS prepares for second round of junior doctor strikes
Posted Tuesday, April 4, 2023 1:07 PM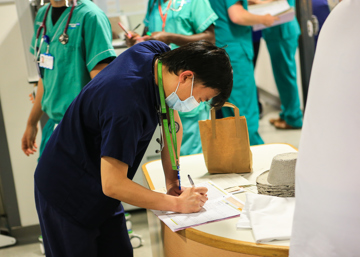 NHS organisations in Nottingham and Nottinghamshire are warning of major disruption during the industrial action being taken by junior doctors next week.
The industrial action is due to take place over a 96-hour period between 7am on 11 April and 7am on 15 April, with the action due to impact the county's hospitals, mental health services, GP practices and other NHS services.
The public are being urged to support the NHS by using services wisely, being kind to staff and attending their appointments as planned, unless they are contacted to rearrange. As we head into the Easter Bank Holiday it is also important that people prepare by ordering prescriptions in good time as well as choosing the right service for their need.
Dr Dave Briggs, Medical Director at NHS Nottingham and Nottinghamshire, said: "There will be major disruption during the strike period and we are urging people to only attend A&E or call 999 in an emergency. Junior doctors do a vital job, so losing this part of our workforce over a four day period will have a big knock-on effect.
"We are doing everything we can to keep essential urgent and emergency care services running but waiting times in A&E will be significantly affected. Please use alternative services where possible, including 111 online, pharmacies or urgent treatment centres.
"Please continue to attend your appointments unless you are contacted and told otherwise. The NHS will contact you if your appointment needs to be rescheduled due to strike action."
Services are expected to be impacted across the whole healthcare system including hospitals, mental health services and within primary care, as GP trainees are junior doctors.
Dr Keith Girling, Medical Director at Nottingham University Hospitals NHS Trust, said: "Throughout any strike action patient safety remains our top priority. We apologise for any disruption patients may experience during the forthcoming Industrial Action and remain committed to providing safe services to patients who need to access care during this period.
"Unfortunately, there are likely to be delays to care and some appointments will have to be rescheduled. If you need urgent medical care attend as normal but please do contact NHS 111, your pharmacy or the urgent treatment centres for non-life-threatening conditions."
Dr David Selwyn, Medical Director, Sherwood Forest Hospitals said: "We'd like to thank the public for their support and cooperation during the industrial action so far. Please continue to be aware of the extra pressures under which our staff are working and be patient if it takes longer than usual to be seen.
"Hospital teams are continuing to work exceptionally hard to manage emergency care and we would like to reassure the public that despite the challenges faced, our urgent and emergency services remain open and you should continue to come forward as normal in emergency and life-threatening cases - when someone is seriously ill or injured, or their life is at risk; while continuing to make use of alternative services such as 111 where appropriate.
"We are working together to make sure that despite significant disruption, critical services can continue. Our priority is to ensure that we keep people safe."
Dr Nick Mallaband, Divisional Director for Medicine and Consultant at Doncaster and Bassetlaw Teaching Hospitals, said: 'With only a few days left until the beginning of the planned industrial action and the bank holiday, we understand that many will be making plans and health preparations – collecting their prescription medicines as needed, as well as understanding what services are available should they, or a family member, become ill or injured.
"Please remember to only use the Emergency Department when it's just that – an emergency. However, if you do feel ill during this time, you can still seek advice by calling NHS 111, booking an appointment at the Doncaster Same Day Health Centre and if it's really urgent, calling 999. We are anticipating longer waits than usual for our services and appreciate your support in keeping these to a minimum for patients who need urgent and life-saving care. 
"Please also remember that you will be contacted directly if your appointment is affected by the industrial action. If you have not been contacted, you should attend your appointments as usual."
Nottinghamshire Healthcare Chief Executive, Ifti Majid added: "We rely on the skills of our junior doctors, they make a vital contribution to our Trust and I respect their right to take industrial action. These strikes will cause disruption across the healthcare system and I hope that talks can start soon and a solution is found.
"Our priorities for the next week are patient safety and the wellbeing of our staff. We are developing robust plans to try and mitigate the impact of industrial action on our services and colleagues across the Trust are doing all they can to support safe and compassionate care. It is important that people continue to attend their appointments, unless they have been notified that they have been cancelled."
Due to the reduction in staff across these organisations, planned surgery and outpatient appointments will be affected. If you have not been contacted, please attend your appointment as planned. The NHS will contact you if your appointment needs to be rescheduled due to the strike action.
Regardless of any strike action taking place, it is really important that patients who need urgent medical care continue to come forward as normal, especially in emergency and life-threatening cases.
Where the situation is not life-threatening, alternative support is available through NHS111 online, your nearest pharmacy or at urgent treatment centres.