Industrial action update: day two
Posted Wednesday, April 12, 2023 3:27 PM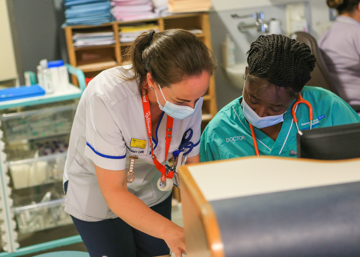 Bosses at local hospitals say they have seen more patients seeking urgent and emergency care for less serious conditions on the first day of industrial action this week, as NHS leaders across Nottingham and Nottinghamshire continue to make a plea for the public to choose health services wisely.
Hospitals and other health and care services in the area are facing heightened pressure to cover all urgent and emergency services due to the junior doctor strikes which are now underway.
The industrial action is taking place over a 96-hour period between 6:59am on 11 April and 6:59am on 15 April, with the action significantly impacting the county's hospitals, mental health services, GP practices and other NHS services.
Health leaders are reminding the public to be patient and kind to staff who are trying to see patients in a timely way despite intense pressures across the local healthcare system. Patients attending with minor injuries may face a significant wait to be seen.
While the NHS is here for patients, it will need to prioritise public safely throughout this industrial action. There are considerably fewer doctors to call upon – which means it could take longer for patients with less urgent concerns to be seen.
Dr David Selwyn, Medical Director, Sherwood Forest Hospitals said: "Our services are experiencing increased demand as we work hard to see people during the junior doctor strikes, where we have seen more people attending urgent and emergency care services at King's Mill and Newark hospitals for less serious conditions."
"It may take longer to get through to your GP surgery or to access other services over the next few days and we ask people to be patient and kind to our staff who are all working under extreme pressure to get you the help you need. Some appointments have had to be rearranged, but we would like to reassure the public that we are working hard to minimise any disruption to our service during this time.
"It's more important than ever that people use their local NHS services wisely at a time when there are less doctors available to treat the most seriously ill patients. That's why I want to ask the public to help during this challenging time by only calling 999 or attending A&E in a genuine emergency. There are other services available, including our Urgent Treatment Centres and NHS 111, GPs and pharmacies, so please choose the right service for your needs.
"The local NHS needs the public's help to ensure that hardworking teams can continue to focus on those patients who need our care most. Please choose the right service for your needs and continue to attend your appointments as planned, unless you have been contacted to rearrange."