NHS showcase attracts hundreds looking to Step into the NHS
Posted Friday, April 28, 2023 3:45 PM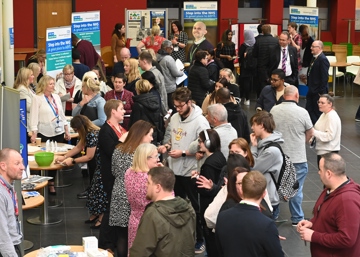 NHS recruits received on-the-spot job offers at a second successful 'Step into the NHS' careers showcase, attended by more than 300 people. 
The 'Step into the NHS' event, organised by Sherwood Forest Hospitals NHS Foundation Trust in partnership with West Nottinghamshire College and Nottingham Trent University, showcased a host of non-clinical roles available in the Trust's King's Mill, Mansfield Community, and Newark Hospitals.
Visitors to the event, which took place on Tuesday 25 April at the College's Derby Road campus, could find out about apprenticeship opportunities, career pathways, and how to enrol at the university's Mansfield-based campus.
Departments including Human Resources and the King's Mill Hospital Reception conducted interviews and made offers on the night, after 36 people were recruited into paid employment following an earlier event in January.
The recruitment team collected over 100 new leads from individuals looking to pursue a career in the NHS.
Samantha Felstead, Recruitment Team Leader at Sherwood Forest Hospitals, said: "I interviewed several potential employees, it's been great meeting people in person. It's a more informal recruitment approach and it's proving effective."
The West Nottinghamshire College's Apprenticeship, Health & Social Care, and Business Studies teams were in attendance for individuals considering working within the corporate and admin side of the health service.
A-Level student, Clover Eaton-Parkes, 16, said: "I wasn't sure what I wanted to do until tonight. After speaking with the apprenticeship team, I really want to do an HR apprenticeship at Sherwood Forest Hospitals."
As well as apprenticeship roles, there was lots of information on roles in patient experience, payroll, rostering, IT, customer service, and administration – among many more.
Rob Simcox, Director of People at Sherwood Forest Hospitals who oversees the Trust's recruitment efforts, said: "The event successfully showcased the diverse range of roles we offer in our hospitals. Running a hospital requires a lot of people. Not everyone is on the frontline, and we couldn't do what we do without the individuals we have working behind the scenes.
"For anyone who wasn't able to attend, or you have further questions, please get in touch with our recruitment team, we would be happy to chat about the opportunities we have across our hospitals."
Principal and chief executive of West Nottinghamshire College, Andrew Cropley, said: "It was wonderful to host yet another recruitment event with our partners at Sherwood Forest Hospitals and to see so many members of our community attend. There was plenty of interest in the vast array of non-clinical roles that one can go on to be successful in within a hospital setting and this event was able to shine a light on the more hidden roles within healthcare and how both college and university studies can open up so many more opportunities within these specialties."
For information on current job vacancies at the Trust, visit Sherwood Forest Hospitals https://www.sfh-tr.nhs.uk