Home >
News >
2023 >
February >
Charity raises quarter of a million pounds for King's Mill hospital's Neonatal Unit
Charity raises quarter of a million pounds for King's Mill hospital's Neonatal Unit
Posted Wednesday, February 8, 2023 1:41 PM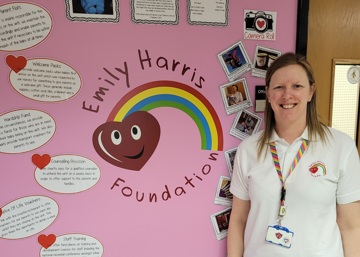 A charity that supports the families of babies born too soon or needing medical treatment is celebrating after raising a quarter of a million pounds.
The Emily Harris Foundation was founded by Clare Harris of Clipstone Village on 5 September 2008 on what would have been her daughter Emily's second birthday. It raises money for the neonatal intensive care unit at King's Mill Hospital, which is managed by Sherwood Forest Hospitals Trust.
Emily, born six weeks prematurely with a serious heart condition, spent ten weeks in the neonatal intensive care unit, but sadly died in 2007 at just five months.
After seeing first-hand how the unit benefits the parents of newborn babies needing extra care, Clare and her husband Neil agreed that they wanted to do something more for the unit. This led to their decision to start the Emily Harris Foundation. Initially, the charity provided essential items such as nappies to new parents, but over the years donations, which come from a mixture of family, friends and supporters, have grown tremendously.
Paula Shore, Director of Midwifery and Head of Nursing said: "We are truly thankfully at SFH to have the support from Clare and Neil. The strength they have to take the experience and loss of Emily into providing additional support to our families and staff during neonatal journey is phenomenal.  The Emily Harris Foundation is a testament to them and their beautiful daughter Emily".
The charity regularly donates items to support families and staff, as well as making bigger one-off donations when needed. All families on the unit receive a Welcome Pack which includes essential items such as nappies and bibs. Over 2,500 of these have been given out over the years. The Foundation also funds a counsellor to visit the unit and covers the annual fee for an app, which enables staff to send parents secure videos and photographs of their baby when they can't be with them.
All staff working on the unit benefit from a copy of the book Pocket Neonatology, a subscription to a Neonatal Journal and funding to attend various annual conferences, as well as additional training when required.
Over the years, the charity has also made significant one-off contributions, and these include nursing chairs, breast pumps, a digital camera for staff to take photos of babies for their families, cool bags and ice blocks for expressing mums to transport milk, and a trial of donor breast milk in 2013. This trial led to the hospital becoming a hub for donor milk in December 2021, which means they store and provide much-needed milk to other hospitals in the local area.
The donations don't just stop there though, and Clare visits the unit once a week for her 'Cake and Chat' sessions, where she provides a listening ear to parents of babies on the unit. She said: "It can be a lonely time on the unit, one filled with unease and worry. I hope that by visiting I can not only provide a friendly face, but also a bit of relief and an ease to the anxiety the parents must be feeling."
Fundraising for the charity is done purely through the goodwill of friends, family as well as significant donations from businesses. Activities that have taken place to date include an annual curry night and race night, the London Marathon, Scotland Coast to Coast and the Great North Run.
Rhian Cope, Matron for Children and Young People at Sherwood Forest Hospitals, said: "The amount of support given to the unit by the Emily Harris Foundation over the years is truly amazing and we are so thankful for everything that Clare and Neil do. The money they raise really does make a difference to parents, neonates and staff and we are all incredibly grateful. Clare attends the unit weekly and her support to the families and staff on the unit is incredibly valuable."
Clare continued: "Without the support over the years from friends, family, supporters and local businesses, the charity wouldn't be able to continue. It is their generous contributions that ensure we can carry on supporting the unit. The unit helped me immensely during my stay with Emily, and I am grateful that I am able to give something back."