Charity raises thousands to help patients with chronic pain
Posted Tuesday, February 28, 2023 10:58 AM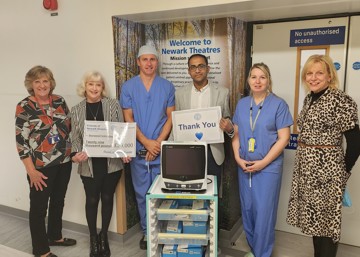 Patients will be able to receive treatment for chronic pain at Newark Hospital, thanks to money raised by a charity.
The £30,000 IconicRF Generator, funded by the Friends of Newark Hospital, delivers non-surgical treatment for the management of pain in the nervous system. It uses heat to target specific nerves and block pain signals from reaching the brain.
Deepak Subramani, Consultant Anaesthetist at Sherwood Forest Hospitals, said: "The use of this machine at Newark Hospital will greatly help our patients to obtain long-lasting pain relief; in turn leading to an improved quality of life.
"Radio-frequency denervation is a procedure that aims to change the way pain is transmitted by the nerve to the brain. The nerve is interrupted by heating (cauterising) it with an electrical current from the radio-frequency generator machine."
Nadia Whitworth, Chair of The Friends of Newark Hospital said: "We are delighted to support the Pain Management Team in providing the funding for this valuable piece of equipment, which will enable patients to be treated locally and in a timely fashion.
"This has been funded with profits raised in our two refreshment areas and I would like to thank our fantastic team of dedicated volunteers.
"The Friends are very excited to hear about the planned investment in Newark Theatres and we look forward to supporting this with future fundraising."
Having the treatment available at Newark will not only reduce waiting times but also provide flexibility and patient choice to those who would prefer to access their treatment at Newark Hospital without the need to travel further afield.
Patients are encouraged to 'Ask for Newark' at the point of referral with their GP or when speaking to their hospital team to check whether they could benefit from the expanded range of services at Newark Hospital.