Hospital trust pledges to create new apprenticeships
Posted Tuesday, February 7, 2023 2:37 PM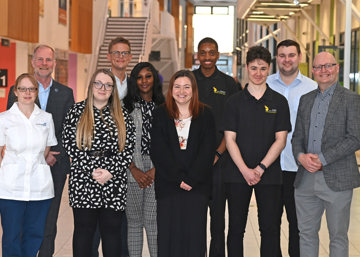 The largest employer in Mansfield and Ashfield has demonstrated its commitment to creating career opportunities by offering 20 new apprenticeship places.
Sherwood Forest Hospitals NHS Foundation Trust will offer apprenticeships in a wide range of clinical and non-clinical roles across its three hospitals – King's Mill, Newark and Mansfield Community.
The announcement comes during National Apprenticeship Week, which runs until 12 February 2023, after the Trust agreed to support the proposal last week.
The apprenticeships, which will be specifically aimed at GCSE and A-level students, will be advertised by June, ready for successful applicants to start in September. The plan is for all apprentices to be offered a permanent job at the end of their training.   
Although apprenticeships do not provide short-term solutions to recruitment, the long-term advantages include reducing the amount of money spent on bank and agency staff and providing managers with a stronger workforce for the future.
The Trust already has 198 employees who are studying for or have completed an apprenticeship as part of their current role. Offering external apprenticeships will help support recruitment and retention in line with both the national and the Trust's own People Policy.
As part of National Apprenticeship Week, the Trust is celebrating the achievements of its internal apprentices and highlighting the many benefits of having an apprentice to managers across all departments.
Rob Simcox, Director of People at Sherwood Forest Hospitals, said: "There are many students who feel that university is not an option for them and instead they want to get into paid work.
"We want to be seen as an employer of choice for those students. There are so many careers available in the NHS, that there really is something for everyone – no matter what level of education you have.
"By increasing the number and range of apprenticeships we offer, it will not only create more job opportunities for local people but will enable the Trust to address skill shortages and grow our own skilled and qualified workforce to meet our future needs."
Georgia Wilson, a Business Admin Apprentice at Sherwood Forest Hospitals, said: "This is great news for people like me who want to earn while they learn. This is the perfect combination of on-the-job training and studying. It is great for people who want to gain experience from a job, whilst also gaining a qualification at the end of it."
The Trust is already working closely in partnership with education providers, including West Nottinghamshire College and Nottingham Trent University, to understand what courses are available to see how they can be aligned to roles within the Trust.
Nikki Slack, Assistant Principal for Health, Education and Service Industries at West Nottinghamshire College, said: "We fully support the trust's ongoing commitment to apprenticeships and look forward to continue working in partnership to provide high-quality education, training and career progression opportunities to local people."