Kick-start your career at Sherwood Forest Hospitals Trust
Posted Wednesday, February 15, 2023 11:22 AM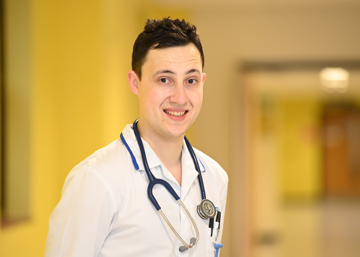 A healthcare assistant is hoping to realise his ambitions of becoming a nurse, thanks to ongoing support from his NHS employer.
Liam Ball (29) of Bagthorpe, works in the Emergency Assessment Unit at King's Mill Hospital in Sutton-in-Ashfield, which is run by Sherwood Forest Hospitals Trust.
The Trust is working with training providers, including West Nottinghamshire College and Nottingham Trent University, to offer its employees a wide range of opportunities to develop in their careers.
Liam, who has worked in healthcare for nine years and at the Trust for two years, has taken advantage of all in-house training opportunities alongside studying towards his functional skills qualifications in Maths and English.
Liam said: "It's hard juggling work with my studies, but the support from my team really keeps me going. The way the Trust has supported me on my career journey is fantastic, and I am so grateful. I'm excited to reach my final career goal of becoming a Registered Nurse."
The Trust offers both a level 5 Nurse Associate Apprenticeship and a level 6 Registered Nurse Degree Apprenticeship in partnership with Nottingham Trent University, and Liam will be able apply to either of these to achieve his goal if he wishes.
David Ainsworth, Director of Strategy and Partnerships said: "As one of the biggest employers in the local area, I want to make sure that members of the community are aware of the jobs available within Sherwood Forest Hospitals Trust, as well as the many opportunities for progression.
"There really is no need to move away to study so why not give your local hospital a try? There are many different job sectors at the Trust which include admin, marketing, estates, housekeeping and research to name a few; as well as a vast number of clinical roles. Many of the entry-level positions on offer can give potential applicants the perfect steppingstone to kick-start their career at the Trust."
The Trust also offers:
Individual Career Clinics delivered by the Learning and Development Department, which offer support to colleagues who are looking to develop
Functional Skills course which are delivered via Derby Business College, Nottingham College, West Notts College and Academy Transformation Trust
Apprenticeships in a wide range of both clinical and non-clinical roles, starting from Level 2 (entry level) up to Level 7.
Higher Development Award in collaboration with Nottingham University Hospitals and Notts Healthcare, delivered by Nottingham College and West Notts College. It aims to teach colleagues effective leadership and management skills
In-house courses and e-learning on a range of subjects
The NHS Leadership Academy which includes the Edward Jenner Programme, an introduction to NHS Leadership. This is free to all colleagues, no matter what qualifications they have
E-learning for Health – offering a selection of free e-learning for both clinical and non-clinical colleagues
NHS Elect – a range of sessions which are available free of charge to members of Sherwood Forest Hospitals Trust
The opportunities listed above are all part of the Trust's plan to develop its workforce and give employees the tools to learn and progress whilst in their current roles.
If you're interested in joining Sherwood Forest Hospitals, check out the current vacancies here.