Home >
News >
2023 >
February >
Maternity services at King's Mill Hospital rated 'good' following CQC inspection
Maternity services at King's Mill Hospital rated 'good' following CQC inspection
Posted Wednesday, February 22, 2023 6:56 PM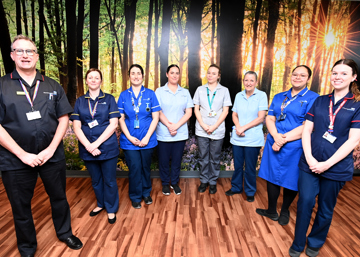 Maternity services at King's Mill Hospital have been rated 'good' following the latest inspection by the Care Quality Commission (CQC).
King's Mill Hospital remains 'outstanding', while the overall rating of Sherwood Forest Hospitals Trust, which also manages Newark Hospital and Mansfield Community Hospital, remains 'good'.
The inspection, which took place in November 2022 as part of a national review of maternity services, looked at two of the five areas the CQC uses to evaluate NHS trusts – well-led and safe. The CQC did not look at the other three key areas, meaning caring remains 'outstanding', while effective and responsive remain 'good' from the previous inspection in 2018. 
The report published today, Thursday 23 February 2023, highlights many positive aspects of the service.

This includes:
The service had enough maternity and medical staff with the right qualifications, skills, training and experience to keep women and babies safe from avoidable harm and to provide the right care and treatment.
Staff understood how to protect women from abuse and the service worked well with other agencies to do so.
Infection risk was well-controlled. Equipment and premises were visibly clean.
The design, maintenance and use of facilities, premises and equipment kept people safe.
Records of women's care and treatment were detailed, clear, up to date, stored securely and easily available to all staff.
The service managed safety incidents well. Managers investigated incidents and shared lessons learned with the whole team and the wider service. When things went wrong, staff apologised and gave women honest information and suitable support.
Leaders had the skills and abilities to run the service, were approachable for women and staff, and supported staff to develop their skills and take on more senior roles.
Staff felt respected, supported and valued, and were focused on the needs of women receiving care. The service promoted equality and diversity and provided opportunities for career development. The service had an open culture where women, families and staff could raise concerns without fear.
Leaders operated effective governance processes, throughout the service and with partner organisations. Staff at all levels were clear about their roles and accountabilities.
Several areas for improvement, which the trust had identified to the CQC, were confirmed during the inspection. This resulted in the safe aspect being rated as 'requires improvement'.
In order to improve its rating of 'requires improvement' under the safe domain, the trust must:
Ensure staff complete mandatory, safeguarding and maternity specific training in line with the trust's own target.
Implement a robust system in maternity triage to include escalation process, monitoring and documentation.
It was also advised that the trust also:
Ensure all medicines are stored safely and appropriately in line with trust policy.
Continue to implement the new electronic maternity notes system that is already being rolled-out
Where audits identify issues, the Trust should undertake further audits to demonstrate if improvements and changes in practice have improved patient outcomes and improved practice.
Leaders should continue to implement improvements to how they effectively communicate any changes in service provision with staff.
Work is already underway to address these points – for example, staff are receiving training ahead of the launch of a new maternity triage system, and staff training levels have increased significantly since the inspection.
Phil Bolton, Chief Nurse at Sherwood Forest Hospitals, said: "We welcome feedback from the CQC because we're keen to ensure that our maternity services continue to offer a high standard of care to patients and their families.
"We are incredibly proud of the many positive findings highlighted in this report. The 'good' rating rightly recognises the fantastic work our maternity colleagues do, day in and day out, despite the ongoing challenges placed on maternity services.
"I want to thank our staff who work hard to provide excellent, safe and compassionate care to our expectant and new parents and their babies.
"Continuous improvement is one of our top priorities and work is well underway to address the points raised, as well as others we have identified.
"We pride ourselves on setting incredibly high targets for training, and I'm pleased that our training levels have increased significantly since the inspection."
Paula Shore, Director of Midwifery and Head of Nursing, said: "We are immensely proud to be rated 'good' again for our Maternity Services. This CQC report is an important measure and reinforces the message to our expectant and new parents, and colleagues, about the Maternity Service provided at Sherwood.
"We continually strive to improve our services and know there are further improvements required to make Sherwood an even better place to work and receive care."
The full CQC report will be published on the CQC's website.
Anyone who is due to give birth at King's Mill and has any questions or concerns, can speak to their midwife for advice.