West Nottinghamshire College strengthens local hospital links
Posted Tuesday, February 7, 2023 2:17 PM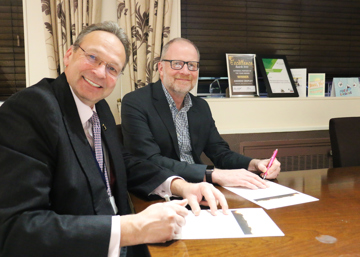 West Nottinghamshire College has strengthened its commitment to working with its local hospitals, after college and hospital leaders joined forces to formally commit to working more closely together in future. 
West Nottinghamshire College and Sherwood Forest Hospitals have already been working together on an informal basis over recent years to create more learning and careers opportunities for local communities. 
Now leaders from both organisations have pledged to extend that work by signing a formal agreement between the two organisations. 
The partnership commits both organisations to work more closely together – including by hosting more events like the successful Step into the NHS recruitment event which the organisations recently hosted together alongside Nottingham Trent University. 
The event, which took place on Tuesday 17 January, welcomed over 650 people who flocked to learn more about the college's health and care courses, apprenticeships and Access courses – and how the college could prepare people for a career in their local NHS. 
The college's human resources team, business studies team and the team-leading and higher management development curriculums also attended to help visitors think about the kind of areas they need to train in to enter jobs within these areas in the NHS. 
Staff from Nottingham Trent University (NTU) were also on-hand to discuss entry requirements for enrolling onto qualifications, including adult nursing and mental health nursing degrees, nursing associate apprenticeships, ambulance technician certificates and the paramedic degree. 
The partnership was formally extended when the Chief Executive at Sherwood Forest Hospitals joined the college's Principal to sign the agreement between the two organisations.
"We really value West Nottinghamshire College as partners and the benefits of working together are clear," said the Trust's Chief Executive, Paul Robinson.
"The college does so much for the local population by providing outstanding training and development alongside the services also offered on their site by NTU.
"It makes complete sense to continue working closely together and this agreement is an important pledge to help create more learning and career opportunities for the local people we are so proud to serve."
Andrew Cropley, Principal at West Nottinghamshire College, said: "This partnership is a perfect example of how two organisations can achieve so much more together than they could ever imagine on their own. 
"We are developing new plans and ideas every week, all aimed at creating secure and rewarding careers for local people at the same time as helping the hospital address its staffing challenges. When you add our partners at NTU to the mix, the potential is magnified even more."
The partnership agreement outlines both organisations' shared ambition to improve the aspirations and educational attainment for local communities. The agreement also commits both organisations to sharing learning and knowledge, as well as raising awareness of opportunities for employment and education locally.
The new partnership will see the organisations continue to join forces to:
Create shadowing opportunities and reciprocal teaching opportunities
Co-design future curriculum offers at the college to support learners to prepare themselves to step into a career in their local NHS
Develop communications to promote the varied roles within the NHS to current and future students
Continue to take part in 'Question Time' sessions that see students put forward a variety of topics for debate and discussion between students and health experts from the Trust.
 For details of the host of health and social care and other courses available at West Nottinghamshire College, please visit https://www.wnc.ac.uk/Courses/.
 For details of current vacancies available at Sherwood Forest Hospitals, please visit www.sfh-tr.nhs.uk/work-for-us/our-vacancies or follow the Trust's new dedicated careers Facebook page.