Step into the NHS New Year careers event
Posted Friday, January 6, 2023 5:17 PM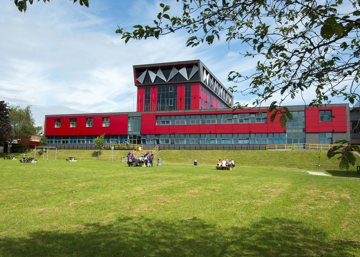 West Nottinghamshire College, in collaboration with Nottingham Trent University and Sherwood Forest Hospitals NHS Foundation Trust, are to host a careers showcase for those interested in pursuing a role in the NHS.
On Tuesday 17 January 2023, people can discover more at the college's Derby Road campus about the range of careers paths available in the NHS, the apprenticeship opportunities and how to enrol at Nottingham Trent University's Mansfield-based campus.
Staff from the university will be on hand to discuss entry requirements for enrolling onto qualifications, including adult nursing and mental health nursing degrees, nursing associate apprenticeships, ambulance technician certificates, the paramedic degree and more.
Teachers from the college will be available to give advice on a range of apprenticeships, health and social care courses and the Access to Nursing programme, which can be studied before attending university.
Staff from the college's human resources team, business studies team and the team-leading and higher management development curriculums will all be at the event to help visitors think about the kind of areas they need to train in to enter jobs within these areas in the NHS.
The adult and community team as well as the electrical, plumbing and joinery teachers will also be in attendance for individuals considering working within the estates and facilities side of the health service.
Assistant Principal for Health, Education and Service Industries, Nikki Slack, said: "This collaborative event has been organised to bring the largest employer in the local area, Sherwood Forest Hospitals, together with local education providers to provide in depth information, advice and guidance on career pathways within the NHS.
"People will have the opportunity to talk face-to-face to specialist teams on the evening, as well as applying for current vacancies and educational programmes. People will be amazed how many pathways don't require a degree, aren't directly patient facing or aren't clinical or hands on. I'm looking forward to seeing our communities and seeing how we can bring these opportunities for local people to enter local jobs."
Representatives from Sherwood Forest Hospitals will also be available to advise on the range of career pathways available in the Trust's King's Mill, Newark and Mansfield Community Hospitals locally.
Those careers include a range of medical, nursing, research, human resources, IT, customer service and clerical roles – among many more.
Rob Simcox, the Director of People at Sherwood Forest Hospitals who oversees the Trust's recruitment efforts, said: "The NHS is a fantastic place to enjoy a long and rewarding career where you genuinely can make a difference every day.
"We know it takes a whole family to run our NHS and there are as many as 350 rewarding careers available across our NHS, ranging from the doctors and nurses we know so much about to a whole range of clinical and other roles that work together to make great patient care happen.
"Sherwood Forest Hospitals is also recognised as a great place to work nationally and this event is a fantastic opportunity to connect local people with a NHS career that is right for them – right here on their doorstep."
Sarah Mayfield, Director of Nottingham Trent University's Mansfield Hub, said: "This is a really great event for anyone who might be curious about a career in health, but not sure about their options. We have a range of qualifications and training on offer– there may be something that you hadn't considered or thought possible.
"We can also help with other questions around funding, accommodation and even how to write an application, so the best advice is just to come down and chat to us on the day."
The event runs from 4-7pm with a special 7-7.30pm quiet time set aside for anyone who has a learning disability or difficulty. A tour of NTU's nursing facilities will be available for those attending the event, to see the training ward with up-to-date equipment which is used in a hospital setting.
Friends and family are welcome to attend this event, so to register your interest please visit: www.wnc.ac.uk/events