Home >
News >
2023 >
January >
Volunteers go above and beyond to support hospital's Emergency Department
Volunteers go above and beyond to support Emergency Department
Posted Friday, January 6, 2023 5:33 PM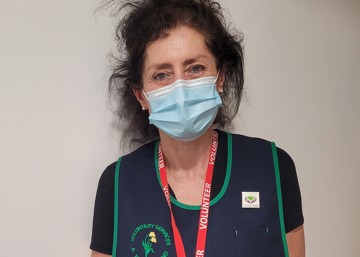 A small but dedicated team of volunteers will support patients and staff in our Emergency Department this weekend as extraordinary pressures continue to be felt across Sherwood Forest Hospitals.
Several volunteers kindly offered to go above and beyond to provide additional help as the Trust remains in its own internal critical incident as well as the system-wide critical incident that's in place across Nottingham and Nottinghamshire.
Suzanne, 58, from Ravenshead, provides a friendly face to help patients feel as comfortable as possible in the Same Day Emergency Care (SDEC) unit at King's Mill Hospital. Her tasks include providing refreshments for patients and staff, restocking gloves, wipes and equipment used for blood tests and providing patients with phone chargers so they can stay in contact with their family.
Suzanne usually works on Thursday afternoons but puts in extra hours as and when needed.
Suzanne finds her volunteering role rewarding and loves that she is able to make elderly and vulnerable people feel better while in an unfamiliar environment.
She said: "It's been really busy recently, but I was happy to do all I could to help support the clinicians during this time – even the little things like wiping down chairs ready for new patients can help to speed things up. It means clinicians can focus on doing what they do best - providing the best possible care to our patients.
"I'm proud to work for the Trust in the area where I live, and I will do anything I can to help relieve the burden on our NHS."
Suzanne, who represented NHS Trusts during her career as a solicitor, became a volunteer as she wanted to give something back after being impressed by the care her mum received before her death last December.
Joy Wilson, Community Involvement Co-ordinator at Sherwood Forest Hospitals, said: "Our volunteers do an amazing job and are always happy to support in times of even greater need – every little bit makes a big difference. They are a fantastic bunch of people who are passionate about supporting their local community and our hospitals. We are incredibly grateful and thank them for all their efforts."