Influence the way your local hospital is run
Posted Wednesday, March 15, 2023 4:30 PM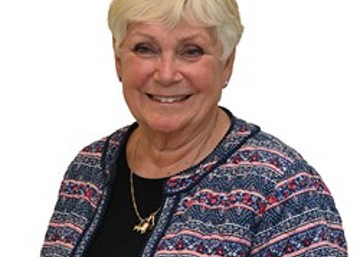 Elections to find six new governors at Sherwood Forest Hospitals Trust are due to take place in late spring this year and potential governors will be able to put their names forward from 10 May 2023. Governors are needed to represent the Trust's King's Mill, Mansfield Community and Newark hospital sites.
Sue Holmes, who has been the lead governor at Sherwood Forest Hospitals Trust for eight years, asks for forward-thinking people of all ages and backgrounds who represent the diverse communities served by the Trust's three hospital sites, to nominate themselves for election.
Governors have a key role to play in helping the Trust achieve its ambitions of providing healthier communities and outstanding care to all. The role will involve listening to feedback from the Trust's 14,000 members, and the wider public and relaying these views to the Board of Directors. The role is central to representing the interests of local communities in the planning of services.
Sue, from Sutton-in-Ashfield, said: "It's so important to get people engaged with the services of their local hospital. It's their hospital and if they want the excellent service to continue, this is the chance to become involved and contribute. They may not need to use the services right now, but I can guarantee that at some point in the future, they will. It's important that people can have a say in making the services we provide work for them and they can do this by becoming a governor.
"The most rewarding part of being a governor is talking to patients, the public and colleagues within the hospital to find out how they find things at our hospitals and what we can do to make their experience even better. I also enjoy visiting schools and other community events to spread the word about the wide range of careers available in the NHS and encourage people to become members."
Elected by the members of the Trust, governors represent the interests of our members and the public and have a statutory duty to hold the Non-Executive Directors to account for the performance of the Trust Board. They bring valuable perspectives and ensure the Trust is publicly accountable for the services it provides. The role of a governor is a voluntary position. Therefore, successful candidates will not be paid, but they will receive expenses for travel to meetings.
Sue continued: "A governor doesn't need to have a background in the NHS, but they must be able to ask the difficult questions and be passionate about improving our hospitals. I became a governor after receiving treatment at King's Mill Hospital as I felt I wanted to give something back. I have found the whole process very interesting, particularly as I don't come from an NHS background and I haven't regretted joining ever since."
Shirley Higginbotham, Director of Corporate Affairs, said: "Sherwood is at the heart of the local community and there is so much to be proud of. We've recently strengthened our links with the local college in a commitment to provide opportunities and training to local people, and in 2021 we launched our Climate Action Group to help us achieve our vision of becoming a sustainable Trust, being one of eight NHS organisations to declare a climate emergency. It's an exciting time to join our Trust and we welcome nominations from members of the Trust who are passionate about helping us achieve our plans for the future."
Elections will be taking place in late spring this year and those who wish to become a governor must first become a member of the Trust. They can do this by signing up online at www.sfh-tr.nhs.uk/get-involved or emailing sfh-tr.membership@nhs.net. Members will be sent regular updates on the elections and be informed when the nominations are open.