Patients in line for speedier diagnosis thanks to innovative approach
Posted Friday, March 17, 2023 4:25 PM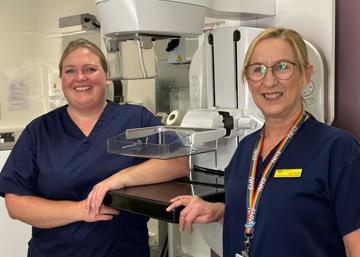 Patients with breast symptoms will benefit from shorter waiting times and improved outcomes thanks to the appointment of a local hospital trust's first Consultant Breast Radiographers.
Julia Yemm and Donna Garment have undertaken years of extra training, research, and clinical practice, along with academic study at Masters level, to specialise and become Consultant Radiographers in Breast Imaging at Sherwood Forest Hospitals Trust.
Not to be confused with Radiologists, who are doctors that perform procedures and interpret imaging tests, Radiographers are technical specialists who deliver most radiological procedures. Radiographers are part of a group of workers called Allied Health Professionals (AHPs) and Julia and Donna are the first two AHPs at consultant radiographer level within the Trust.
Working alongside an existing Breast Radiologist, they play an essential role in enabling people who have symptoms that could be due to cancer to see a specialist within the recommended two-week period.
Julia and Donna assess and diagnose patients with breast symptoms who have been referred by their GP to the Trust, which manages King's Mill, Newark and Mansfield Community hospitals.
They perform ultrasound examinations, report the results of mammograms and ultrasounds, as well as carry out procedures such as draining cysts and taking biopsies. An important part of their role is to take part in weekly meetings with the wide range of clinicians involved in a patient's care. This is vital in confirming a prompt diagnosis and deciding the best course of action.
Julia and Donna carry out a procedure that helps to pinpoint the location of small tumours prior to surgery to help ensure that surrounding healthy tissue is not removed unnecessarily. This procedure would previously have been done by a specialist doctor.
They see women referred through the NHS Breast Screening Programme, scanning and interpreting the results of up to 12,000 women per year.
Sarah Sentance, Radiography Services Manager at Sherwood Forest Hospitals, said: "I am delighted to have Julia and Donna on board. Their presence is going to improve outcomes and waiting times for so many people in the local area and brings a positive change to how we work in Radiology. Their work is extremely specialised and means that patients can be assured they will receive safe and efficient care when visiting our breast clinic.
"It's great for other radiographers to see the career progression opportunities that exist, and I hope that eventually this will be a platform for other Radiographers to develop in the same way."