Home >
News >
2023 >
March >
Patients warned to expect major disruption to county's NHS during strike action
Patients warned to expect major disruption to county's NHS during strike action
Posted Wednesday, March 8, 2023 1:06 PM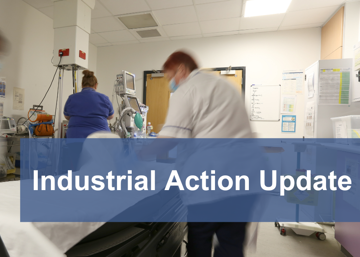 Patients are being reminded that their local NHS is here for them to receive urgent and emergency care during next week's industrial action – but are being asked to support NHS staff by using services wisely and attending appointments as planned, unless they are contacted to rearrange. 
The plea is being made as NHS services across the country work to finalise their plans to prepare for industrial action that is being taken by junior doctors next week. The action is being led by the British Medical Association (BMA) – the trade union and professional body for doctors and medical students in the UK. 
That industrial action is due to take place over a 72-hour period between 7am on Monday 13 March and 7am on Thursday 16 March, with the action due to impact the county's hospitals, mental health, GP and other NHS services. 
Dr Dave Briggs, Medical Director at NHS Nottingham and Nottinghamshire, said: "We are asking patients to use all our services wisely during industrial action and take simple steps to help ensure care is available to patients who need it most. This includes using 111 online as the first port of call for health needs and continuing to only use 999 if it is a life-threatening emergency. 
"Services are expected to be impacted across the whole healthcare system including hospitals, mental health services and primary care, as GP trainees are junior doctors. This may affect some appointments and clinics but our message to the public is to please continue to attend your appointments unless you are contacted and told otherwise. The NHS will contact you if your appointment needs to be rescheduled due to strike action." 
Next week's planned industrial action is due to include staff from Sherwood Forest Hospitals for the first time in 2022 and 2023 – including at the Trust's King's Mill, Mansfield Community and Newark Hospitals. 
The news has moved hospital bosses to warn patients to brace themselves for significant disruption to some non-urgent services, as the Trust prepares to redeploy senior doctors and consultants to prioritise safe urgent and emergency patient care – including in its Emergency Department at King's Mill Hospital and its Urgent Treatment Centre at Newark Hospital. 
Dr David Selwyn, the Medical Director for Sherwood Forest Hospitals, said: "We know the vital role that our junior doctors play in making great patient care happen across our NHS, which is exactly why their absence will be particularly felt during this national dispute that we all hope to see a resolution to as soon as possible. 
"As a Trust, we are doing everything we can to keep essential urgent and emergency care services running to guarantee that patients can continue to access vital medical attention when they need it most. 
"We are incredibly grateful to all our staff who will be going above-and-beyond  to continue to deliver those services during this period of action that we know will have a significant impact. 
"Our message to our patients throughout this time is clear: 'Please choose the right service for your needs and continue to attend your appointments as planned, unless we contact you to rearrange.' 
"By choosing NHS services wisely and making every appointment count, you will be helping to ensure our hard-working staff can be there for the patients who need us most over the weeks ahead." 
The action is also due to impact hospital services provided by Nottingham University Hospitals at its Queen's Medical Centre and City Hospital sites, with patients advised to check each organisation's website for updates about how each service is likely to be affected. 
Dr Keith Girling, Medical Director at Nottingham University Hospitals, stated: "We recognise the huge contribution that junior doctors make to the delivery of high-quality care to our patients and we respect their decision to take action in response to the recent ballot. Patient safety continues to be our top priority and our emergency services will continue to be provided. 
We would value the support and cooperation of our community in ensuring the most appropriate route for advice or care is accessed, with 111 available to provide advice. In the event that we need to make changes to planned care will be in contact with any patients affected." 
Nottinghamshire Healthcare NHS Foundation Trust Chief Executive, Ifti Majid, added: "We really value the vital contribution our junior doctors make in our Trust and respect their right to take industrial action. I hope that a resolution will be found very soon. 
"Our priorities are patient safety and staff welfare. We are currently working with colleagues across the Trust and wider healthcare system to assess the possible impact of industrial action on our services. If we need to cancel any non-urgent appointments or reduce any services, we will inform our patients as soon as possible." 
Here's how you can help your NHS during planned industrial action: 
Continue to come forward if you need urgent medical care, especially in emergency and life-threatening cases. Your NHS is here for you when you need it – especially if you or your loved ones become seriously ill or injured, or their life is at risk. 
To help your NHS to focus on patients who need emergency care most, please only call 999 or attend A&E departments for serious accidents and genuine emergencies. 
If your relative is due to be discharged from hospital and needs to be collected, please do whatever you can to help bring them home as early as possible. This will help our teams to free-up a hospital bed for someone waiting to be admitted. 
Please consider the full range of NHS services that are available to you. When you need urgent medical attention but it's not an emergency, alternative support is available by visiting NHS111 online or by calling 111. 
Pharmacies can also offer over-the-counter advice and treat common illnesses such as colds, sore throats, stings and allergies.